Balenciaga
Getting back to nature has never been so chic and glamorous. Usually when you think of taking a hike, dusty trails and jagged edges come to mind. Some of these rock-inspired clutches definitely feature the latter, but in the sleekest way possible.
Featured Items
My sentiments for fur shoes differ greatly from fur bags. Think about it: Your wallet doesn't get cold – but your feet do. That's why fur shoes are a big SNOB for me.
Featured Items
Can't keep up with who's designing for which brand? In the high fashion world's ongoing game of musical chairs, it can be overwhelming to keep track of the creative minds behind the brands.
It's the holy grail. "Genius" and "perfect" are words you don't throw around too often – at least I don't when it comes to talking about a bag as a whole – but this is a genius, perfect bag. Starting with the most striking detail, look carefully at the front pouch…
Last month, I expressed my appreciation of the recent marbleized trend, and this month, my love has yet to dissipate. Especially now that I've laid eyes on Balenciaga's latest Le Dix Cartable bag.
The original Balenciaga motorcycle bag, or more officially known as the Arena Classic City bag, had me up quite a few nights in search of different variations back in 2000. I had the ready-to-be-distressed leather version. I had the less-common pony hair. Hell, I even had it in denim and flannel.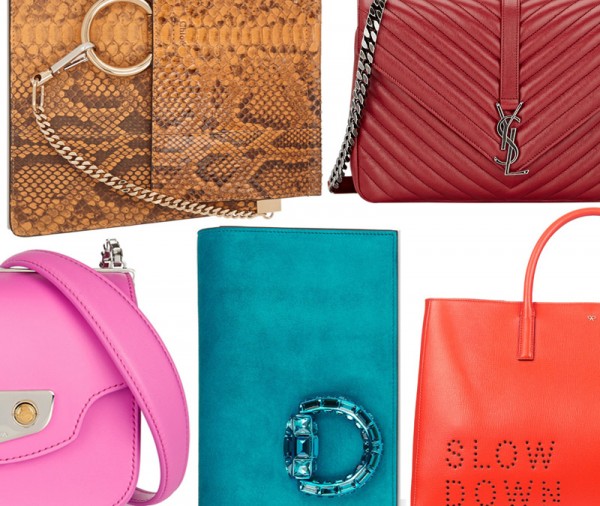 Calling it old-fashioned to get matchy-matchy with your look? That's so old-fashioned! Right now, it feels thoroughly modern to coordinate your bag to your makeup, whether it's a swipe of shimmering eye shadow, a classic lip, or an avant-garde manicure.
As we head towards the end of summer (noooo!), there is one thing we don't need to leave behind. While nautical prints and caftans will have to move to the back of closet, there's a certain fabric that gets to remain front and center: Canvas.
All it takes is a simple tweak (or two) to make an old bag brand-new again. Balenciaga's choice to outfit their Le Dix Cartable bag with white piping is more than enough to revive, refresh, and reinvigorate my interest in the style all over again.