Balenciaga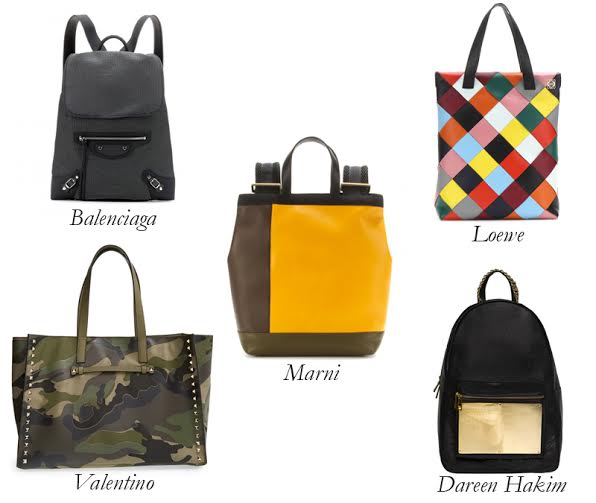 Memorial Day marks the unofficial start of summer, and it welcomes the official start of the travel season. And that means we need the perfect travel companion: the right bags! This time, it's on the outside that counts.
Last week, we shared our favorite frugal perforated bags, all coming in at under $200. On the flipside of the cutout camp, their luxuriant counterparts are hard to resist.
Leave it to Alexander Wang to rethink and revamp the way a frame bag should look. I love the level of ingenuity and original design at play. The silver bar looks crazy-modern, while Balenciaga's bicycle-inspired theme continues, with a polished roller chain…
My bedroom is painted the palest shade of blue, a most quietly calming hue. Not only is baby blue the ideal choice for my boudoir, it's one of my favorite colors, especially when it comes to handbags. Don't be fooled by the innocent associations…
As groundbreaking as it is likely to remind you of your favorite sweater, I have mixed feelings about Alexander Wang's latest release for Balenciaga…
Slip from spring into summer with the most laidback sandal of the season: the slide. Once worn by lazy college students with dingy tube socks (Adidas shower sandals, anyone?), slides are now Snob-tested and Snob-approved.
Is Balenciaga attempting to usher in a new era of label-flashing? Looks like they're at least giving it a go. I have mixed feeling about these new Cabas totes. On the one hand, a simplistic logo set on beige canvas and trimmed with black leather is so modest and pared-down, it's chic…
The Neo Classic is one of Balenciaga's, well, classic styles, but we're just now seeing it in perfected mini form. The smaller version is so great, so much better than her bigger (and bulkier) sister, which makes for an overwhelming bag that's heavy thanks to ample hardware.
It would be easy to assume that the best-made leather leggings are the most expensive. This is just not true, though…