Christian Louboutin
Tue 03.24
Ahh springtime is officially here! Pastels are in full bloom in our closets, but no matter how enthusiastic we are to show our appreciation for the warmer-weather months, there are just some outfits that demand less candy coating and more neutrality.
Wed 01.07
What's inspiring the hottest graphics of the season? It's none other than tie-dye in a full spectrum of variations, from the artful and abstract to distinctly deliberate patterns. Bring the beloved, nostalgic summer motif into winter right now to create an unexpected mood. You'll be surprised at how effortlessly it blends with your wardrobe.
Mon 01.05
Colorblock, print block, texture block…whether you like yours via sexy mesh inserts on mini dresses or wool panels on winter coats, I've found nearly two dozen pieces to choose from, and some of them are even on sale!
Tue 12.30
As far as new trends go, the cutout-handle bag is suddenly here to stay in a major way, but that doesn't mean every designer's incarnation is doing it for me. It's Christian Louboutin's Passage bag that has me the most intrigued.
Mon 12.29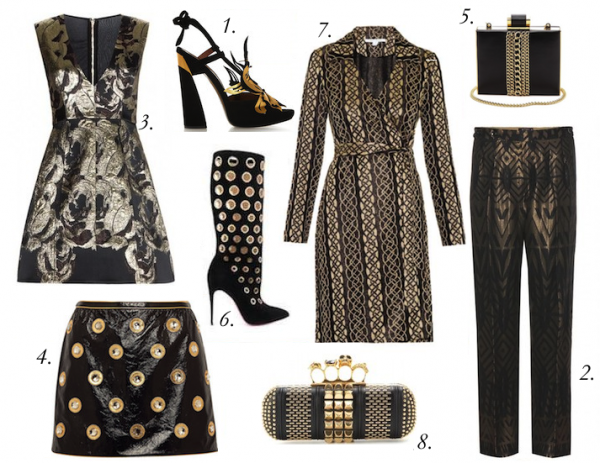 In the words of Wiz Khalifa, "Yeah, uh huh, you what it is." While he's referring to the combination of black and yellow, I say close enough! Black and gold is what's up. There's just something about this eternally cool, classy combination that feels right for ringing in the New Year.
Mon 12.15
Valentine's Day must be coming early this year. How else can you explain the sudden influx of bags that are wearing the symbol of love loud and proud? Cute and quintessential, hearts never go out of style, and they will just about always make you happy.
Fri 10.24
My nude obsession continues. Actually, it's only gaining steam. After a streak of blindingly bright neon trends, all things washed out have never looked chicer.