Jimmy Choo
Forget the Walk of Fame. Who needs a star on Hollywood Boulevard to prove she's a shining Snob?! I mean, these days if you have an active Instagram account, you are technically a star, no?
Contrary to what we might hope, bags are not always "one size fits all." Skinny, young things may be able to get away carrying just about anything, but my well-endowed girlfriends have trouble finding even a simple crossbody. While you can certainly buy any bag out there, the truth is that different bags flatter different body types. See which will work best for you!
From Roberto Cavalli to Dolce & Gabbana: Here's another look styled by my dear friend Lee Oliveira. I gave the talented stylist and photographer/contributor for The New York Times free reign over my ensemble, and the results were both right on and unexpected.
Tina and I designed the Snob Essentials Runway backpack for countless scenarios, and one of our favorites is travel. Whether you're hiking around a tropical island or perusing the streets of Italy, this bag helps you get on your way, with no-muss, no-fuss. Who wants to spend time planning your outfit when you could be out exploring or shopping?
Let's be real: we all want to have it all, and we demand the same standards of all-ness when it comes to our bags. While no one bag can serve every purpose for every occasion (cue the Five Essentials!), the perfect bag has a little bit of everything you need.
From cocktail-printed clutches to rivets patterned in the shape of stars, we've come to expect splashy bags from Jimmy Choo, but if this white tote is any indication, the brand does simple chic just as well as it handles the statement stuff.
The good news? You can now custom your Jimmy Choos! The bad news? That lower-priced J. Crew line was apparently just a rumor.
The best prize at last night's MTV Movie Awards came from none other than Narciso Rodriguez. In line with Jess' eco-friendly empire, he made this black, crocheted clutch from aluminum soda bottle tops and named the bag after her! It's no wonder why this woman would inspire designers – she's a perpetually stylish muse.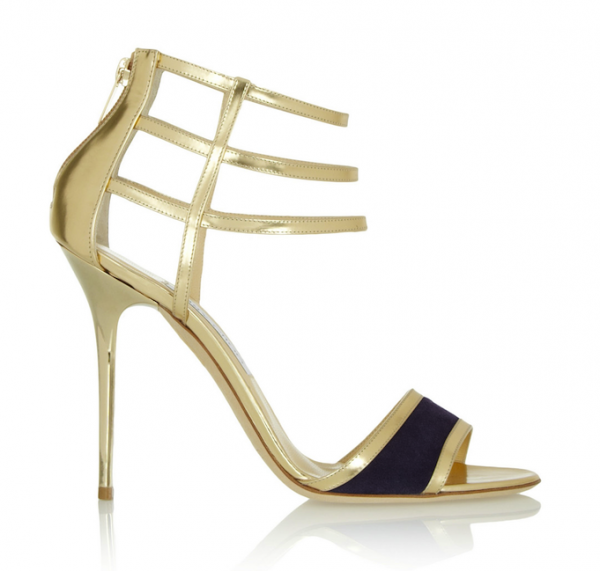 One of the best things about the end of winter is that it heralds in the arrival of a wide variety of covetable strappy sandals. My pick is a little navy number from Jimmy Choo – blue shoes are as versatile as jeans, and with these golden straps, the Tolka will go from day to night without skipping a beat.