Flats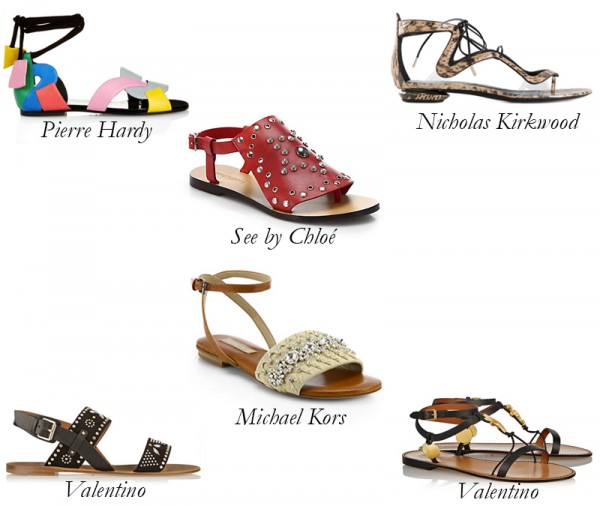 Sandal flats are an essential part of summer. They exude the effortless attitude of the season and allow you to relax. I'm guilty of wearing flip flops far too often…
At the end of a long night, when your feet are in so much pain from wearing heels that you actually consider sleeping on the sidewalk (don't tell me you haven't been there!), you have one of two options…
When Victoria Beckham released her style guide, That Extra Half an Inch, in 2007, in which she stresses the importance of, yes, an extra half-inch when it comes to shoes, she was one year shy of becoming a designer.
Feeling like things look a little dull now that holiday festivities are on their last leg? There's nothing like the perky colors of the rainbow to enliven your wardrobe, and there's nothing like a great new pair of shoes to make you see things from a whole new angle.
Each season, I try to prioritize essentials for the upcoming months (so as not to go wild and get five of each!). For fall, it's all about flash and function – a burst of metallic via party-ready sandals, as well as flats and galoshes for those cold, rainy days when a black and white calf hair pump wouldn't be able to hack it.
Spring 2015 brought my favorite Oscar de la Renta collection ever, and that was due in part to the work of his new footwear designer, Daniel Lawler.
There just aren't many frugal shoe brands that make the grade. Something about these accessories requires an expert hand, and luckily for us, Sam Edelman has just that.
My size varies depending on which type of shoe I'm wearing. Add the fact that my left foot is a bit smaller than my right, and you can imagine the fun I have shopping – and that's just in the store! Online shopping is a whole other ball game. I refuse to miss out on all the gorgeous shoes I see perusing the sites, though…
It may be summer, the time when we indulge in shock-and-awe neons and rainbow prints, but who needs color when you've got contrast?