High Heels
Tue 04.22
We all obsess over bright shoes come springtime, but this Loubie is so much more. The abstract print is like a painting or even a colorful Rorschach test. I see trees, rainbows…and yet in spite of the whimsy, the kaleidoscopic look is nothing short of sophisticated on the pointed Decollete style.
Tue 04.15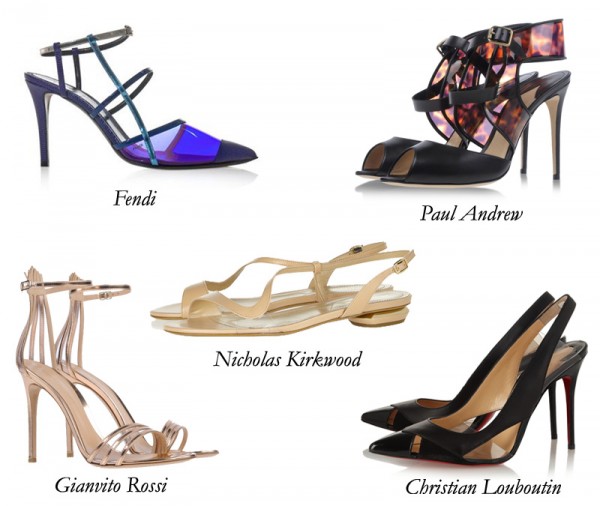 While a hint of PVC evokes thoughts of bright summer days, too much of it can send you down a slippery slope – literally. I don't need to explain the sticky situation you find yourself in the latter case (shoes made entirely from PVC are gross in more ways than one).
Thu 04.03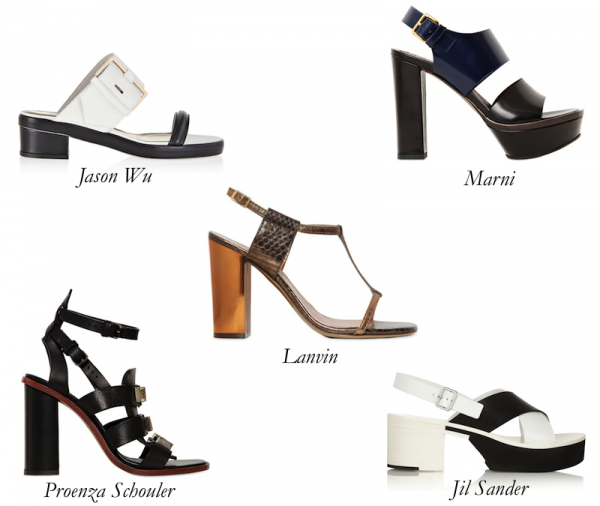 Whether you're the kind of girl who wears 2″ heels or never anything under 5″, you're going to want to jump on the block heel trend stat. The nod to the '70s is an absolute godsend for your feet – a step up from flats and a comfy alternative to razor-thin stilettos. Here are the picks you need to have a block party at any height…
Thu 04.03
It looks like Alaïa might have some competition in the laser-cutting department! From a distance these Kirkwoods seem as if they might be constructed from sweetly scalloped lace or cork, but closer inspection reveals luxe, nude leather. The spiky metal heel and pointed toe make for a shoe that's somewhat different from your usual, light spring fair, and I mean that in the best way.
Mon 03.31
The Michael Kors era at Céline ended over a decade ago, and today it seems his namesake brand couldn't be more different than the French house. But once upon a time, Michael Kors was the king of Céline, and he made the most amazing platform shoes you'd ever seen. I still have two pairs of stacked heels from his tenure, and they're not unlike these here.
Mon 03.24
While flowers may not be in bloom everywhere just yet, they certainly are on shoes! I've already starting shopping floral appliqué bags, but I'm sticking with prints for my footwear. From barely-there blooms to abstract flourishes reminiscent of Monet paintings to clear-cut florals, there's a look available in any style, for any occasion.
Fri 03.21
I did some early spring cleaning to purge my closet, even going so far as to bring in an "organizational expert" (from Blue Print Your Space – but more on that later!). It's much easier to throw things out when you have someone to validate that they really should be tossed if I know I'm never going to wear them again.
Thu 03.20
The higher the heel, the closer to god? Absolutely! Just don't tell your chiropractor I said that (tip: Pilates and yoga strengthen your core and back, making heels easier to maneuver). I've been wearing them since I was 17. When I graduated from high school, I tossed my flats and never looked back. Pumps were a part of my daily uniform at USC and continue to be today.
Wed 03.19
The boogie sandal is not only the perfect transitional shoe (be it from winter to spring, or day to night), but also the most striking way to stay stable on your toes. Though dainty little ankle straps are nice and pretty, most days you want something more supportive, and with the cool factor these chunkier options provide, there's just no reason to say no.