High Heels
Tue 12.03
At just shy of 6″, Brian Atwood's sexy rendition (at Saks Fifth Avenue for $1,256) of the classic hiking boot will turn heads and heels. Find more options below – just don't expect to do much hiking in them!
Wed 10.30
Aperlai always has a masterful way of catching the attention of both Shoe Snobs and celebs alike with distinct designs you can't find anywhere else. The Parisian brand's most recent conquest is none other than Katy Perry, who wore designer Alessandra Lanvin's pink Geisha Doll pumps to her new album's release party.
Thu 10.24
Normally being two-faced is not such a great thing, but when we're talking shoes, it most certainly is!
Wed 10.23
Cold weather keeping you from wearing sandals in the winter? Don't let it stop you! Okay, adding a few extra straps won't exactly prevent frostbite, but it looks like it might (go with me here) and besides, it's mind over matter. Just make sure you have the Uber car service app downloaded – that way you can catch a ride when things start to get a little too icy!
Wed 10.16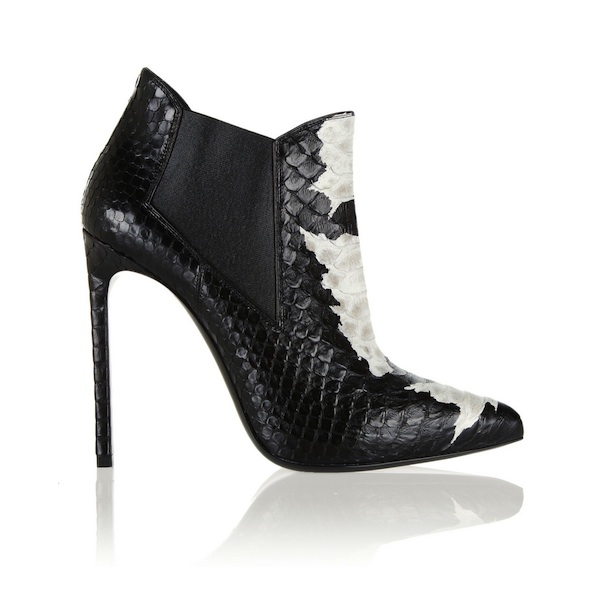 Here we see Hedi Slimane take on the black and white trend with his signature rock and roll aesthetic. Saint Laurent has rolled out a few different hues for the Paris boot, but it's not color that sets this pair apart – it's the scaly texture of python. I'm not going to be able to sleep until I have these! They're the best all-around shoes for the season.
Tue 10.15
We're on the fence about fur bags. Your wallet doesn't get cold, so what purpose do they really serve? Feet, on the other hand, need as much help staying warm as they can get, which is why I say bring on the (tasteful) fur shoes! Tasteful is an important modifier here because fur can go wrong so quickly.