High Heels
Tue 03.24
Ahh springtime is officially here! Pastels are in full bloom in our closets, but no matter how enthusiastic we are to show our appreciation for the warmer-weather months, there are just some outfits that demand less candy coating and more neutrality.
Fri 02.06
I've long been an avid proponent of the platform. As chic as single sole pointed toes are, nothing is more comfortable than platforms, and when you wear heels as often as I do (all the time), a little element of comfort goes a long way.
Wed 02.04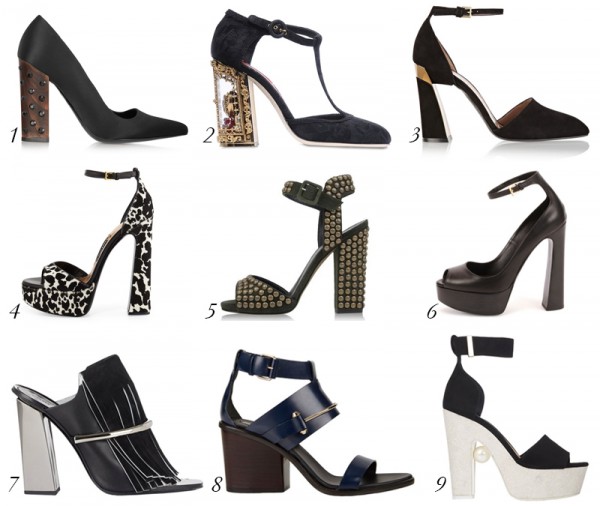 Those with weak ankles, rejoice! And pretty much all of us can enjoy a break from sky-high stilettos. Because it's all about the chunky heel right now. When working a heel with some heft, it's important the shoe have some feminine details. Otherwise, the look gets trashy way too quickly.
Wed 01.14
One of my favorite things to do in Florence is shop at uniquely Florentine boutiques like the new Aquazzura store at the Palazzo Corsini. Besides the concept space serving as the brand's headquarters and flagship, it's located in a gorgeous, historical building built by the Medicis in the 15th century that was later bought by Maria Machiavelli.
Tue 12.30
Feeling like things look a little dull now that holiday festivities are on their last leg? There's nothing like the perky colors of the rainbow to enliven your wardrobe, and there's nothing like a great new pair of shoes to make you see things from a whole new angle.
Fri 12.19
Do you have New Year's Eve plans yet? If not, it's time to make some! These dancing shoes deserve a night on the town, and you'll be able to splurge on the rest of your outfit because all of these pretty pumps are discounted on NET-A-PORTER.
Fri 12.12
Yes, you read that right. Pain-free heels. The dream is real. At least according to world-renowned healer Yamuna Zake!
Thu 12.04
Last night, I attended my first Footwear News Achievement Awards gala, which for a Shoe Snob is like being a kid in a candy store! I was there to celebrate SJP, winner of "Launch of the Year" for her huge-hit shoe line, SJP by Sarah Jessica Parkericon.
Fri 11.21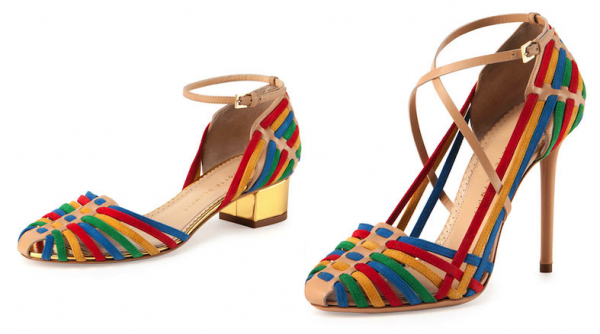 Just as wearable as they are exciting, these rainbow woven sandals from Charlotte Olympia speak to my fun-spirited side while still being serious enough for daily wear.