Loafers
Forget awning, Bengal, zebra, Breton, repp, and candy stripes. Even pinstripes. The chicest of all breeds of stripes is chevron! Not to mention it's the most flattering.
Each season, I try to prioritize essentials for the upcoming months (so as not to go wild and get five of each!). For fall, it's all about flash and function – a burst of metallic via party-ready sandals, as well as flats and galoshes for those cold, rainy days when a black and white calf hair pump wouldn't be able to hack it.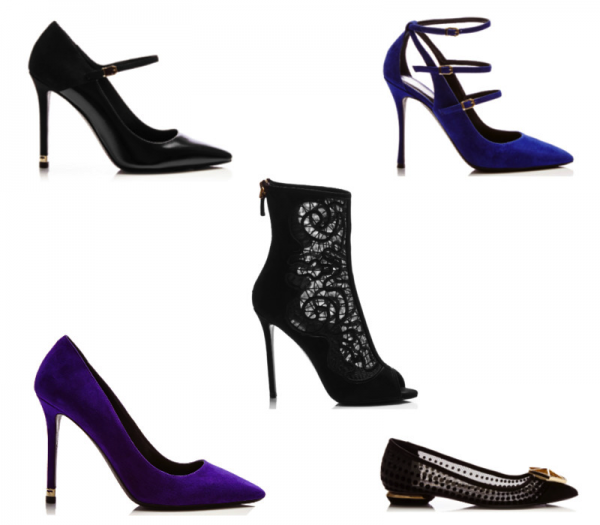 The Nicholas Kirkwood Fall/Winter 2014 collection gets straight to the point. A sleek pointed toe defines almost every shoe in the collection from snakeskin heels to flat boots.
The Polar Vortex has us all feeling a little under the weather. Fight the gloom with some shoeshine! From classic cap toes to angular slices of silver to the thinnest gold rims, there's a tip for every taste, whether it's cold, hard metal or simply metallic leather.
You can't rationalize indulging in every trend that pops up, but considering lace-making has been around since ancient times, you're pretty much guaranteed to get a lot of wear out of the style. And it doesn't hurt that we saw it grace the Fall and Spring catwalks. So what'll it be? Pumps? Booties? Flats? I'll take them all! Lace up your shoes with these romantic picks…
Okay, we're not even halfway through the decade, so there are certainly more trends to come! But we already spotted quite a few, ranging from vampy cutout shoes to simple ballet flats. It seems that we've finally learned to mix style and comfort. There's a little something for everyone, whether you like a bird's eye view atop skyscraper heels or prefer to stay grounded.
Our Luisa via Roma Style Lab was not without its Man Snob moments. This year we had our gorg model Konstantino pose in menswear's latest at the home of the Italian site's proprietor Andrea Panconesi. Our favorite look was clearly tartan. In mid-1800s Scotland, your tartan stood for your clan. The clan of these wool trousers ($520)? Etro!
Pippa was out and about with a friend recently wearing Tory Burch Dakota bow toe loafers. These classic shoes have a timeless look with contrast trim, simple design and sweet bow accent. These are great for hopping around London town with friends or for a long day in the office.  They add an element of … Continue reading Pippa Middleton: Loafing in London