Platform
If you haven't used post-spring cleaning closet restocking as an excuse to buy new shoes yet, then I have another reason for you: the latest trends. Block heels from the likes of Mansur Gavriel, metallics via laser-cut Alaïas, and most prominently, lace-up shoes that climb like vines along your ankles are the styles at the top of every fashion girl's shopping list this season, and NET-A-PORTER has them all. Put those winter boots away until next year and indulge in my new favorite shoes below…
Featured Items
There is no other color as polarizing as pink. While many women love it (Barbie, Elle Woods, and myself included!), others prefer more neutral hues. Even the women who wear LBDs every day, never thinking of slipping on frilly pink dresses, find themselves longing for a flash of the tint here and there, though. And whether in pastel patent, fuchsia PVC, or blush glitter, these girly shoes are just the right amount of pink to feed that craving.
Featured Items
It's the end of Fashion Month, and after weeks of the mad dash between shows, shoots, and everything else in between, I'm still reaching for my Gucci platform pumps. If that's not an endorsement for comfortable heels, I don't know what is. They're shockingly easy to walk in (just stay away from NYC's Meatpacking District and most Parisian streets, aka the locations of pretty much every show I went to), and with the wide variety of color and hardware options, are even easier to incorporate into your wardrobe.
Featured Items
There's nothing like a little escape come this time of year, and the next best thing to going off on a tropical getaway with a suitcase full of brand-new resort wear is looking ahead to spring. Spring's best new shoes have already hit stores, and I'm ready to get a jump-start stocking up. From in-your-face floral appliqués to nautical accents to majorly-elevated flats, there are plenty of reasons to get excited on the early side.
Featured Items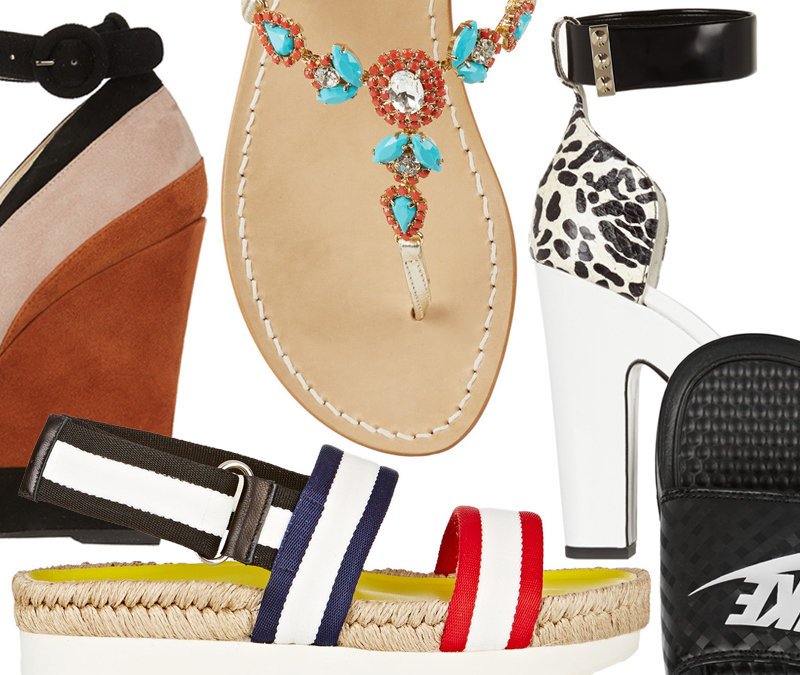 Yes, I know that we're in the midst of the year's coldest weather, and unless you have a tropical getaway planned, buying sandals is just a reminder that you won't be able to wear any for months; but allow yourself to be seduced by the promise of a new spring wardrobe, distinguished by crystals as turquoise as the sea, ankle straps strong enough to get you through hours of dancing, and savings of up to 80% off from NET-A-PORTERicon! Deals like these will melt your sartorial ennui away in no time…
Featured Items
Sensible shoes are on the rise. Or is it just my age? There is no reason you need to look schleppy just because you care about foot health. Or not being in pain. You can totally rock these ergonomically sound shoes and still keep your style in tact. As a matter of fact, these five are so good, they prove "ergonomic" doesn't need to sound like a bad word. Embrace it!
Featured Items
I have three brothers, and I grew up a tomboy, until I discovered boys. But I still loved borrowing their clothes into my teenage years, and now I often steal my 10-year-old son's cute little sweaters (to his dismay).
Featured Items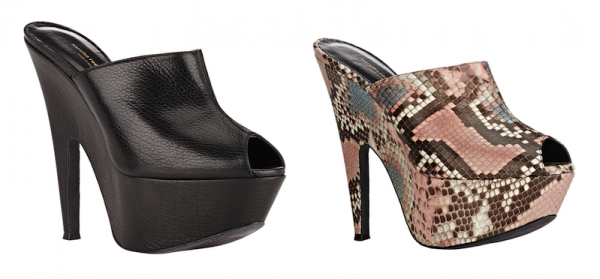 If there's one shoe of the season that I'm living for, it's the platform mule. I wore them pretty much every day in the '90s in a variety of colors and styles; a certain pair in particular was the standout, though – Ferragamos that I kept until they literally fell apart on the streets of NYC.
I've always said that ankle straps are like seat belts for your feet (and we could certainly use those – safety first!), but with these shoes, designers are taking that functional feature and tying it up in a pretty bow.