Platform
There's nothing like a little escape come this time of year, and the next best thing to going off on a tropical getaway with a suitcase full of brand-new resort wear is looking ahead to spring. Spring's best new shoes have already hit stores, and I'm ready to get a jump-start stocking up. From in-your-face floral appliqués to nautical accents to majorly-elevated flats, there are plenty of reasons to get excited on the early side.
Featured Items
Yes, I know that we're in the midst of the year's coldest weather, and unless you have a tropical getaway planned, buying sandals is just a reminder that you won't be able to wear any for months; but allow yourself to be seduced by the promise of a new spring wardrobe, distinguished by crystals as turquoise as the sea, ankle straps strong enough to get you through hours of dancing, and savings of up to 80% off from NET-A-PORTERicon! Deals like these will melt your sartorial ennui away in no time…
Featured Items
Sensible shoes are on the rise. Or is it just my age? There is no reason you need to look schleppy just because you care about foot health. Or not being in pain. You can totally rock these ergonomically sound shoes and still keep your style in tact. As a matter of fact, these five are so good, they prove "ergonomic" doesn't need to sound like a bad word. Embrace it!
Featured Items
I have three brothers, and I grew up a tomboy, until I discovered boys. But I still loved borrowing their clothes into my teenage years, and now I often steal my 10-year-old son's cute little sweaters (to his dismay).
Featured Items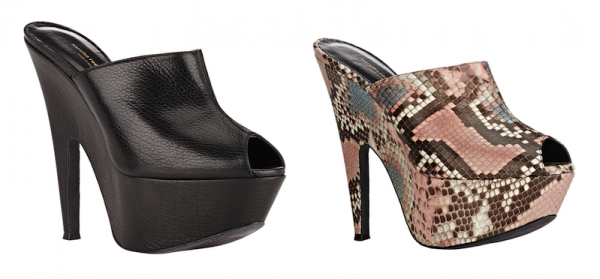 If there's one shoe of the season that I'm living for, it's the platform mule. I wore them pretty much every day in the '90s in a variety of colors and styles; a certain pair in particular was the standout, though – Ferragamos that I kept until they literally fell apart on the streets of NYC.
I've always said that ankle straps are like seat belts for your feet (and we could certainly use those – safety first!), but with these shoes, designers are taking that functional feature and tying it up in a pretty bow.
Last week I covered artistic heels that have zero regard to comfort. Well, it's Friday now, and I'm past the point in the week when I'm going out of my way to impress people! It's time to find the best of both worlds.
In a fantasy world where there's never a line at the valet, and Thor carries me whenever my feet hurt, I always wear the most extravagant of shoes. But even in reality, we can find opportunities to wear shoes so good they could be displayed as works of art.
What's the best way to balance out denim? A pair of clunky clogs, of course. Whether your jeans are distressed and bleached-out or inky, slinky, and indigo, the retro wooden vibe of clogs is the answer to a summer season that's got a keen focus on the 1970s.