Platform
I have three brothers, and I grew up a tomboy, until I discovered boys. But I still loved borrowing their clothes into my teenage years, and now I often steal my 10-year-old son's cute little sweaters (to his dismay).
Featured Items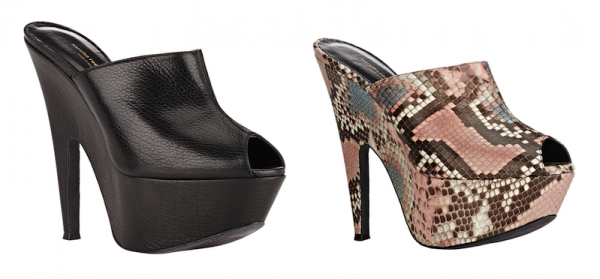 If there's one shoe of the season that I'm living for, it's the platform mule. I wore them pretty much every day in the '90s in a variety of colors and styles; a certain pair in particular was the standout, though – Ferragamos that I kept until they literally fell apart on the streets of NYC.
I've always said that ankle straps are like seat belts for your feet (and we could certainly use those – safety first!), but with these shoes, designers are taking that functional feature and tying it up in a pretty bow.
Last week I covered artistic heels that have zero regard to comfort. Well, it's Friday now, and I'm past the point in the week when I'm going out of my way to impress people! It's time to find the best of both worlds.
In a fantasy world where there's never a line at the valet, and Thor carries me whenever my feet hurt, I always wear the most extravagant of shoes. But even in reality, we can find opportunities to wear shoes so good they could be displayed as works of art.
What's the best way to balance out denim? A pair of clunky clogs, of course. Whether your jeans are distressed and bleached-out or inky, slinky, and indigo, the retro wooden vibe of clogs is the answer to a summer season that's got a keen focus on the 1970s.
When Victoria Beckham released her style guide, That Extra Half an Inch, in 2007, in which she stresses the importance of, yes, an extra half-inch when it comes to shoes, she was one year shy of becoming a designer.
I've long been an avid proponent of the platform. As chic as single sole pointed toes are, nothing is more comfortable than platforms, and when you wear heels as often as I do (all the time), a little element of comfort goes a long way.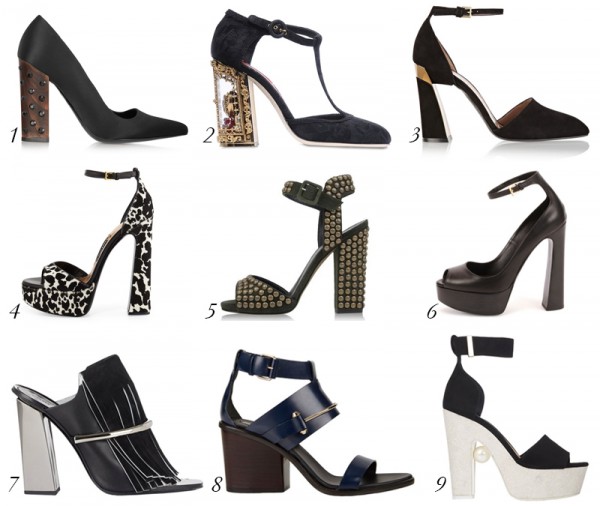 Those with weak ankles, rejoice! And pretty much all of us can enjoy a break from sky-high stilettos. Because it's all about the chunky heel right now. When working a heel with some heft, it's important the shoe have some feminine details. Otherwise, the look gets trashy way too quickly.