Sandals
Fri 02.06
I've long been an avid proponent of the platform. As chic as single sole pointed toes are, nothing is more comfortable than platforms, and when you wear heels as often as I do (all the time), a little element of comfort goes a long way.
Wed 02.04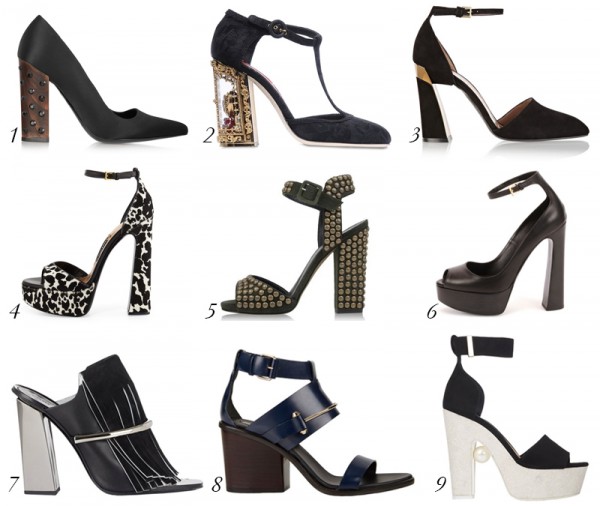 Those with weak ankles, rejoice! And pretty much all of us can enjoy a break from sky-high stilettos. Because it's all about the chunky heel right now. When working a heel with some heft, it's important the shoe have some feminine details. Otherwise, the look gets trashy way too quickly.
Wed 01.14
One of my favorite things to do in Florence is shop at uniquely Florentine boutiques like the new Aquazzura store at the Palazzo Corsini. Besides the concept space serving as the brand's headquarters and flagship, it's located in a gorgeous, historical building built by the Medicis in the 15th century that was later bought by Maria Machiavelli.
Tue 12.30
Feeling like things look a little dull now that holiday festivities are on their last leg? There's nothing like the perky colors of the rainbow to enliven your wardrobe, and there's nothing like a great new pair of shoes to make you see things from a whole new angle.
Fri 12.19
Do you have New Year's Eve plans yet? If not, it's time to make some! These dancing shoes deserve a night on the town, and you'll be able to splurge on the rest of your outfit because all of these pretty pumps are discounted on NET-A-PORTER.
Tue 12.16
If there is one thing you simply must have for the holiday season, it's sparkly, glittery shoes to show off your festive spirit. It's amazing what a gorgeous pair of heels can do for your psyche during the season of extreme ups and downs (your weight included!), so when it comes to investing, a fresh favorite pair of shoes is your best bet.
Fri 11.21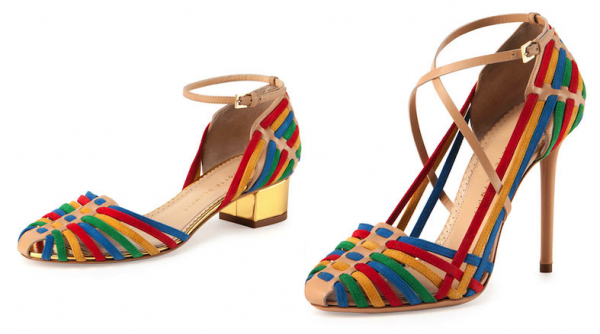 Just as wearable as they are exciting, these rainbow woven sandals from Charlotte Olympia speak to my fun-spirited side while still being serious enough for daily wear.
Tue 09.30
When you think of feathers and shoes, you think of boudoir house slippers like these frilly Sophia Webster mules. There are so many more options than those, though. Feathers had a big showing at couture (most memorably at Chanel) so you can expect the trend to trickle down.
Mon 09.29
Each season, I try to prioritize essentials for the upcoming months (so as not to go wild and get five of each!). For fall, it's all about flash and function – a burst of metallic via party-ready sandals, as well as flats and galoshes for those cold, rainy days when a black and white calf hair pump wouldn't be able to hack it.