Sandals
Last week I covered artistic heels that have zero regard to comfort. Well, it's Friday now, and I'm past the point in the week when I'm going out of my way to impress people! It's time to find the best of both worlds.
In a fantasy world where there's never a line at the valet, and Thor carries me whenever my feet hurt, I always wear the most extravagant of shoes. But even in reality, we can find opportunities to wear shoes so good they could be displayed as works of art.
No surprise here: Spring/Summer '15 has been chock full of flowers! They aren't all the same perennials we're used to, though.
What doesn't have fringe on it in fashion these days? I'm not mad about it! In fact, these heels are some of the best examples out there – and also great examples of how varied it can be. On these three shoes alone, we have classic fringe, leaf-like fringe, and sweet, satin pleats.
Summer opens up a whole other side of our shoe closets, but when it comes time to pick out a flat sandal for a beach rendezvous, you don't want to always be grabbing for hum-drum flip flops. These thongs come with serious style – and still all the ease you need.
We all have pairs of cork or canvas wedges for summer, so why not do one better and indulge in shoes with a little something extra? Embroidery is by no means a new fad in fashion, but on sandals? Well, the style seems to be having a moment! And no one's gotten it better than Jimmy Choo.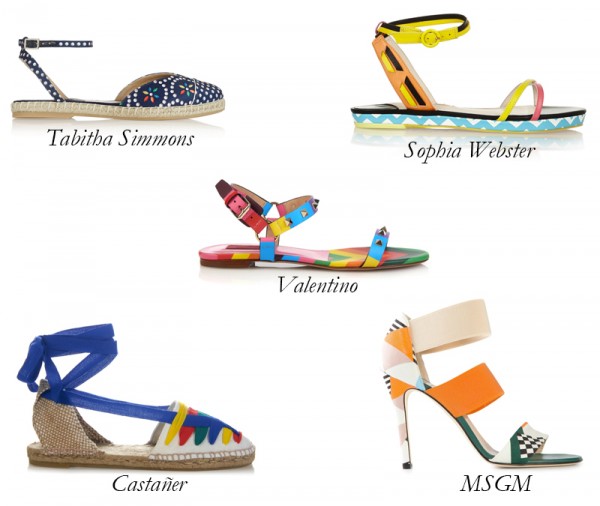 Summer is when I let loose with everything, especially my wardrobe. I guess the best explanation is that matching somehow takes on a different meaning when the heat has fried my brain. Besides, a season of carefree and reckless pairings demands mixing prints and colors…
While I've had my summer wedges and flat sandals picked out for some time now, I've been in need of a special heel that goes above and beyond chic, offering a unique element that brings excitement to any look I build around it.
What's the best way to balance out denim? A pair of clunky clogs, of course. Whether your jeans are distressed and bleached-out or inky, slinky, and indigo, the retro wooden vibe of clogs is the answer to a summer season that's got a keen focus on the 1970s.