Slingback
Tue 04.15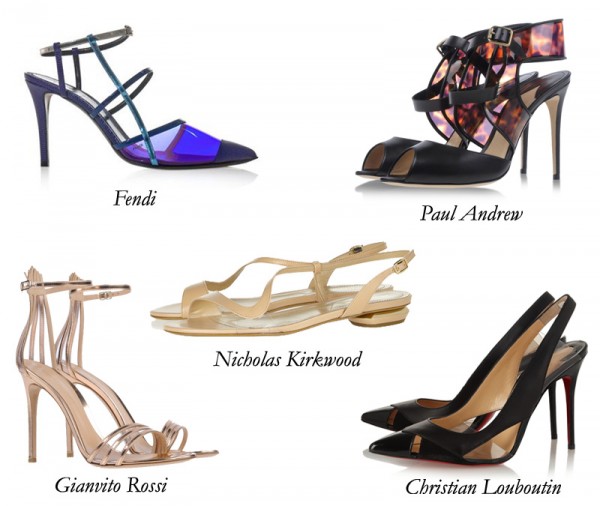 While a hint of PVC evokes thoughts of bright summer days, too much of it can send you down a slippery slope – literally. I don't need to explain the sticky situation you find yourself in the latter case (shoes made entirely from PVC are gross in more ways than one).
Mon 03.24
While flowers may not be in bloom everywhere just yet, they certainly are on shoes! I've already starting shopping floral appliqué bags, but I'm sticking with prints for my footwear. From barely-there blooms to abstract flourishes reminiscent of Monet paintings to clear-cut florals, there's a look available in any style, for any occasion.
Tue 03.11
When Carrie met Manolo, it was on-screen magic. When Sarah Jessica met George, it was real-life retail magic. Meet the SJP Collection, currently sold exclusively at Nordstrom. I've seen my fair share of celebrity line launches, none as well-received as the response Ms. Parker just enjoyed.
Thu 02.06
Nothing is easier than a slingback, but at the same time, nothing is more annoying than a sling that keeps slipping. Enter Philippe Model's Elastique collection. For Spring 2014, the Parisian accessories brand (originally a famed millinery) updated and electrified the straight-laced staple with a shot of upbeat youth.
Mon 07.01
Hayden looked the part while attending the Armani Milan Menswear Spring Summer 2014 show recently wearing head to toe, what else, menswear inspired Armani. The top is a little aggressive but I like the idea of the bow-tie inspired fem twist of the top. The sandals are sweet, chic and a mix of loafer meets pump meets sandal.
Mon 05.27
Only Alexander Wang could make chic shoes from sweatshirt flannel. His super-soft Ts have long impressed, but when you can make a heel comfortable, that's even more of a feat. This is as relaxed as a 4+ inch sandal gets. Seriously, why buy ugly slippers when you have these?? The cozy feel has me ready […]
Thu 05.23
Alejandro Ingelmo has a knack for taking footwear to unexpected extremes. These aren't what you think of when you envision cage shoes, yet they're impossible to resist. With metallic accents and angular cutouts, Alejandro's heels look like they've just been beamed in from the future. The icy Odysseys ($1,295) are definitely worthy of the trip […]
Wed 05.22
You can't spend everyday in platform pumps. Just ask Sarah Jessica Parker – her doctor told her that all of those years strutting around the Sex and the City set in heels actually created a bone in her foot. Truly disturbing. So let's try some shorter heels on for size. To make up for the […]
Wed 05.22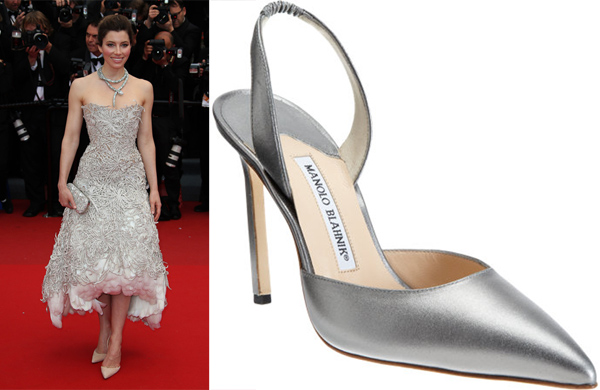 Jessica Biel sported the Manolo Blahnik Carolyne slingback pumps at the 2013 Cannes Film Festival and looked like something out of a fairy tale. These metallic leather d'Orsay pumps are go-to celeb red carpet shoes as they are understated, yet classic and can be worn for a number of different occasions without being spotted as […]