Wedge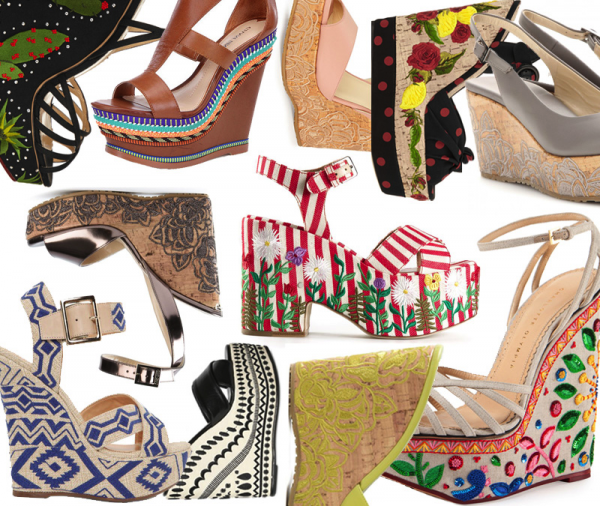 We all have pairs of cork or canvas wedges for summer, so why not do one better and indulge in shoes with a little something extra? Embroidery is by no means a new fad in fashion, but on sandals? Well, the style seems to be having a moment! And no one's gotten it better than Jimmy Choo.
What's the best way to balance out denim? A pair of clunky clogs, of course. Whether your jeans are distressed and bleached-out or inky, slinky, and indigo, the retro wooden vibe of clogs is the answer to a summer season that's got a keen focus on the 1970s.
I rounded up nearly a dozen lust-inducing wedges recently, but this one deserves its own post. It's the perfect summer sandal! A white espadrille? That's pretty much the epitome of the season.
Though there are those of us who live in temperate climates and get to wear espadrilles all year long (sorry!), I know you're not all in that same sun-kissed boat. With the back-and-forth between winter and spring weather…
Now is as much the time to stock up on cute wedges as it is the time to collect winter coats. Why? Because you should be leaving those bulky jackets behind and hopping on a cruise! When I know I have a seafaring adventure on the horizon, the first thing I shop for is the perfect wedge.
The sensible wedge gets a stylish update for fall. Sure, these aren't all that attention-grabbing, but they're flattering, easy for any occasion, and best of all, incredibly comfortable. As in, house slippers comfortable. As much as I'd love to wear my most seductive stiletto from sunup to sundown, it's just not feasible…
This Puma collaboration is crazy – as in, crazy good. When you think of the darkly romantic designs of McQueen, sneakers are certainly not the first pieces that come to mind, but with the runway sneaker boom in full swing, it's not altogether surprising.
It may be summer, the time when we indulge in shock-and-awe neons and rainbow prints, but who needs color when you've got contrast?
What's summer without the fun? That includes all things sparkly. Even if you're not one to let it shine, summer is the season to let loose and break all rules.