Wedge
Mon 08.12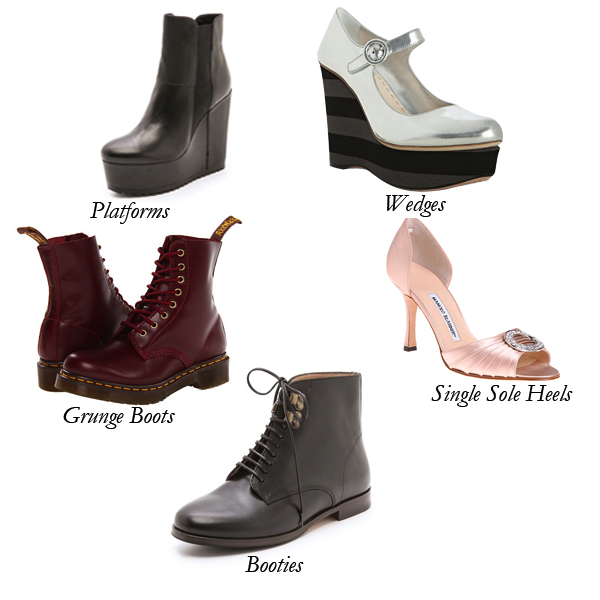 When it comes to shoes, I definitely peaked in the '90s – partly because the platforms were so high! On MTV Asia, I would interview celebs like the Spice Girls, all of us sporting those same crazy shoes.
Wed 08.07
When you're not strutting around in 5-inch heels, it's nice to pull on a pair of shoes that actually supports your ankles. So with grunge coming back in style, it's time to pull your combat boots out of the closet! Wore them out in the '90s?
Wed 07.03
What are your 4th of July plans?? I'm hosting a BBQ/pool party, so I have to make sure I'm dressed for the occasion (a.k.a. patriotically and comfortably – hosting calls for a lot of rushing around). Just because the look is casual doesn't mean it can't be fun, though.
Thu 06.27
Dallas favorite Gregory's is having a summer shoe sale!! Since we're already shopping for fall, this is the perfect excuse to pick up some last-minute summer temptations without feeling full-price guilt. Sandals like Della Pia's pearl-embellished flats ($267) will make for sweet travel companions.
Wed 06.19
Take a look in your closet. Odds are all the pumps have similar silhouettes (the main difference being whether or not they're platforms). It's time to introduce a little more spice into our shoe collections – or sugar, I should say. These gold Nicholas Kirkwood wedges look like they're made from delectable ribbon candy that'll […]
Thu 06.13
Hollywood has long been a source of inspiration for dreamers all around the world, but I have to say this is the first time I've seen its iconic white sign emblazoned onto shoes. Here's hoping it's also the last. The wedges ($1,195) are classic Charlotte Olympia kitsch. They look like the kind of sandals Katy […]
Tue 06.11
The Great Gatsby has been in theaters for a while now, but fashion's Art Deco revival shows no signs of stopping. Here's hoping it stays that way – we could all use an extra dose of glam! The black suede and metallic gold leather on these T-straps from Charlotte Olympia (at Bergdorf Goodman for $1,195) […]
Fri 06.07
Victoria Beckham sported some Chloe buckle wedge sandals at LAX recently while toting her adorable daughter along for the ride. These leather and wood sandals are supremely summer with a high platform wedge and bold buckles. Platforms are great to wear during the day when you want to dress up but not look overdone. These […]
Tue 06.04
From platforms to bulky fur boots, the era of Saturday Night Fever brought about some crazy fashions. Snobs hit the discothèque in the tallest, brightest shoes to date (excluding Lady Gaga's, of course). It was a decade of lava lamps, glitter, and psychedelics with groovy style to match. Check out the five biggest shoe trends […]