Snob Living
Fri 10.31
I'm always looking for healthy snacks to keep me away from cookies, ice cream, cake….because if there is food around that has sugar in it I will want to eat it no questions asked! Usually though I'll munch on the healthy snacks and even if they're good I still won't be able to shake my need for something naughty and sweet.
Fri 10.24
I had a party at my apartment last week so I figured it was the perfect occasion to try out Cocktail Spices & Beer Sauces from Addition. I love having things on hand for the early phases of a party when people are slowly starting to trickle in and these are the perfect conversation starters…
Mon 10.20
If ever there was tomato sauce so good you didn't even need pasta it would be Michaels of Brooklyn…like you can eat this stuff out of the jar it's so amazing.
Thu 10.16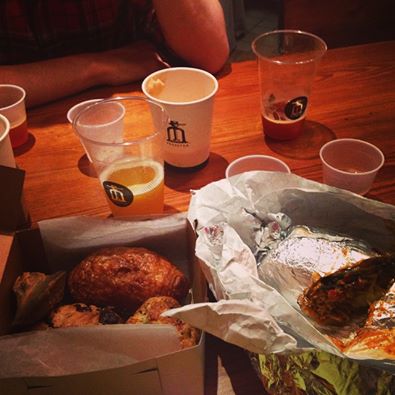 The other week, Adam, a fellow Snob-er, and I headed to Presstea where we sampled some of the best tea I've ever sipped – and I'm tea obsessed.
Wed 10.15
Someone told me the other day that I'm "so lucky" because I can eat whatever I want and not gain weight. Um, no. Actually being in shape has very little to do with luck and certainly nothing to do with eating whatever it is that you want. I work out every day and try to eat as healthfully as possible.
Tue 10.14
Brands that do customizable baked goods for birthdays, weddings, etc are a dime a dozen these days, but let me save you the hassle of scouring the internet to find the best one – it's Deelishables.
Mon 10.06
I'm newly obsessed with nail art and coincidentally I was sent a few samples of WRTMLN WTR, a new line of watermelon water, at the same time that my index finger was painted to look like a watermelon. It was clearly a love affair meant to be!
Thu 10.02
After attending shows at New York Fashion Week for more than 16 seasons and making regular bi-weekly commutes from Dallas, I've stayed in more NYC hotels than I can remember, and this past NYFW, I added another to the list – the newly renovated Paramount Hotel.
Thu 09.04
If you were impressed with the fusion of fashion and tech in Tory Burch's Fitbits, then Savelli is going to bowl you over. The recently established Geneva-based brand has brought together fine jewelry and tech to create the ultimate accessory – the first luxury smartphone for women!