Snob Living
My boyfriend recently surprised me with a box of brownies, cookies, and mini cupcakes after returning from a week away. It was so sweet! But it was also the last thing I wanted in my apartment after a weeklong sugar and carb binge. I can't be trusted around sugar. If it's nearby, I eat it…and I do so ASAP…and that's exactly what happened. Chocolate is king on Valentine's Day, but it's not the only option! There are plenty of foodie gifts that you can give your lover without "ruining" his or her diet. Here's a look at some favorites.
A detox vacation doesn't exactly sound relaxing, much less enjoyable. I've been on a few in the US, including one at Canyon Ranch, and they were miserable. For lack of a better way of saying it, all my previous experiences left me feeling like I was vacationing on a fat farm; worse yet, I gained weight after leaving Canyon Ranch because the food was so horrible I spent my days overeating granola mixes, bars, and energy snacks that were high in sugar and calories. Turns out, as with many other things, Europeans do detox better.
Thanks to my longtime friend and favorite lifestyle expert, Kimberly Schlegel Whitman, I monogram anything and everything I own (though she strictly told me monogramming my child is forbidden, not to mention potentially illegal), so it seems perfectly fitting that her seventh book is all about just that! In Monograms for the Home, she not only goes into the history of these personal touches – which dates back to the sixth century BC – but she also offers ways to elegantly incorporate them into every room of your house. With gorgeous photos and tips from fellow etiquette experts, this is just the style guide you need to start the new year off with!
Featured Items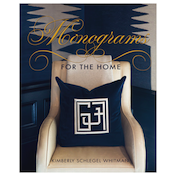 A new year requires a fresh start. If your living room is starting to feel drab, there are quick and easy updates you can make that won't break the bank or require a sledgehammer. This is the best time to buy furniture and home goods because of the crazy sales going on, so stock up now and enjoy your refreshed space sooner rather than later!
Featured Items
In the midst of a dizzying holiday party season, keep in mind one thing: bringing wine to a dinner doesn't have to be stressful. Instead of spending a fortune on a "name brand" or apologizing for bringing a bottle you're not sure about, here are some options for you to feel confident about, ones so good you can walk in and say, "Try this; it's amazing!" Everyone likes to hear that, and when they compliment you on it, you can add, "It's such a great find, and it's not expensive" to impress your friends even more.
With the holiday season in full swing, I imagine you're scanning Pinterest boards and Googling for dinner party inspiration daily. But just remember not to drive yourself crazy. This is supposed to be fun! And truly, all you need for a memorable gathering is good people, good conversation, and one standout feature, be it the food, the decorations, or…the coasters.
Featured Items
Women who have it all are very difficult to shop for: Their closets are filled with designer clothes and Snobby bags, and they're dripping in the most expensive diamonds money can buy. So what to get them?
Featured Items
When I first got to Vienna, I saw a shirt that read "there are no kangaroos in Austria," which made me laugh because there was a shocking number of people who thought that when I said I was going to Austria, I meant Australia!
Most men are pigs when left to their own devices! I dated someone not too long ago who would eat something, and just leave the food and the dirty plate out afterwards. When I asked him about it, he said his cleaning lady was coming soon anyway…