Shoe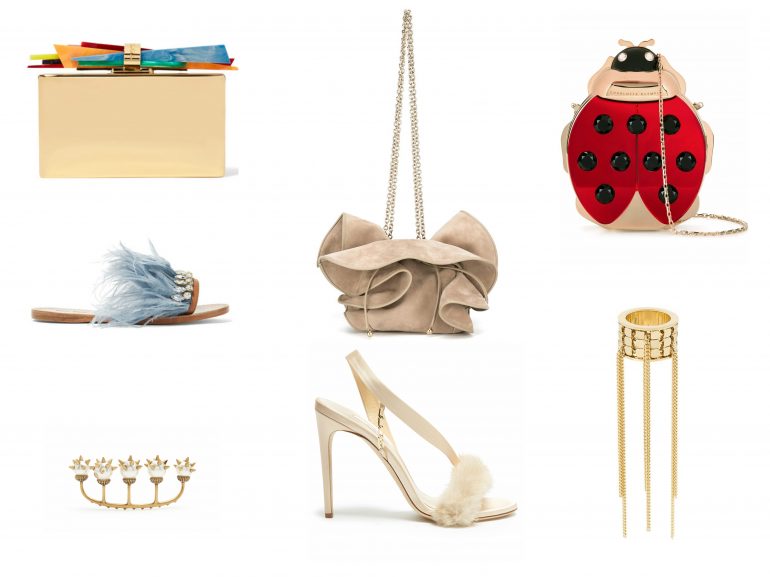 Let's start the new year off properly with exuberant impracticalities. There is no way I can start of a brand spanking new year with timeless black totes and rounded toe pumps. Hell no! Gotta have reckless abandonment now, then when the year starts to weigh down on us, we can go back to pragmatic perfunctory (psst … Continue reading "New Essentials for the New Year"
READ MORE >
The best is here now, don't wait! This is what went in my shopping bag but it's probably selling out as we speak. But do not fear, there are still a ton of really great bags on sale.
READ MORE >
The best of what summer has to offer is on SALE! Crazy steals you won't believe and just in time for your summer travels or better yet, looking as carefree and relaxed in your home town because it's the season to be joyous.
READ MORE >
Tina recently issued a trend alert on white lace but the delicate fabric shouldn't be reserved solely for summer dresses and jumpsuits. The most fun we can have with it is actually on footwear! After all, it's a breathable material, and what do we need that on more than shoes?
READ MORE >
I wish Still Standing existed when I was in high school! Back in my teenage years and through my early 20s I had no consideration for comfort. Blisters? Who cares! I didn't even care if my shoes were the right size as long as they looked good. Needless to say my feet back then were heinous looking.
READ MORE >
You can't rationalize indulging in every trend that pops up, but considering lace-making has been around since ancient times, you're pretty much guaranteed to get a lot of wear out of the style. And it doesn't hurt that we saw it grace the Fall and Spring catwalks. So what'll it be? Pumps? Booties? Flats? I'll take them all! Lace up your shoes with these romantic picks…
READ MORE >
Sometimes Gywneth Paltrow takes questionable fashion risks (remember this?), but there was nothing risky about Brian Atwood's patent Cassandra pumps. The actress and Goop guru rocked a pair on the set of her new Hugo Boss campaign, and even though the suit looks great, my eyes went straight for the heels (does Hugo Boss know that they're being upstaged in their own promo??).
READ MORE >
From long to short, flat to high, celebs have been sporting all kinds of boots this fall. From the uber trendy over-the-knee statement-makers to understated ankle boots, there's something for everyone. For those looking for something, trendy, yet versatile, ankle boots are the way to go.
READ MORE >