Tot Snob
Wed 04.16
We love to dress in florals for spring, and our tots are no different. Plus, they look much more precious doing it!
Mon 03.10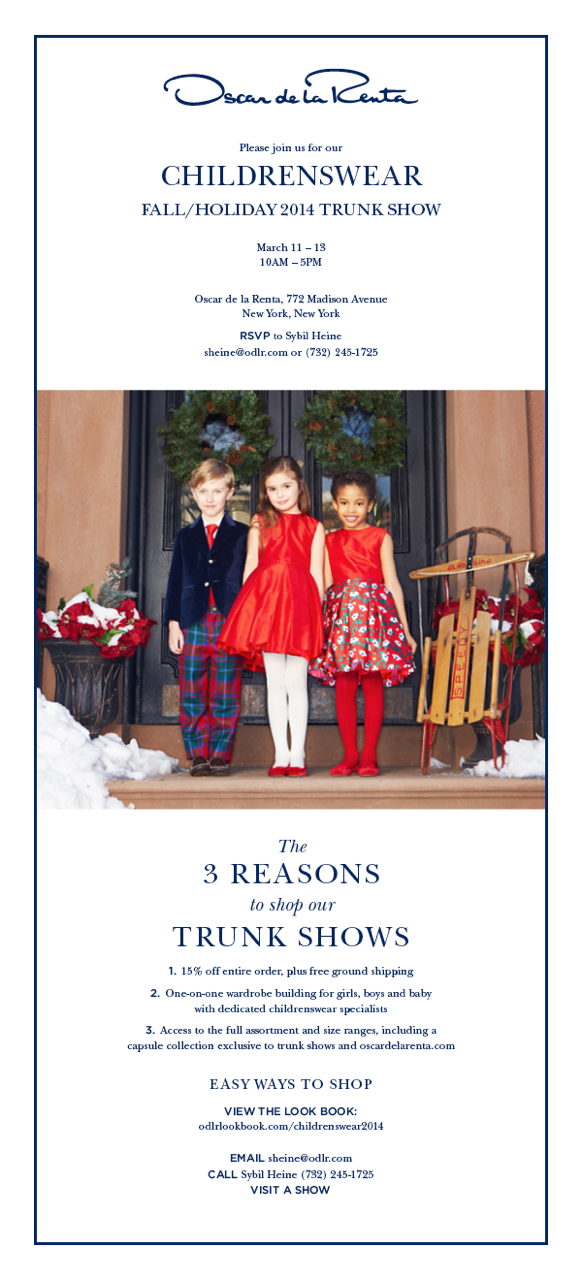 It may not be spring yet, but Oscar de la Renta childrenswear is already making its Fall/Holiday collection available – and at 15% off! They will be holding a trunk show tomorrow through Thursday at the Madison Avenue flagship. Take a look at the pieces in advance and RSVP here…
Wed 02.05
Victoria Beckham just landed in NYC for Fashion Week, and already she and daughter Harper are the chicest mom-tot team in town. While the designer sported a coat from her own collection upon arrival at JFK, tot Harper wore one from mom's friend Princess Marie-Chantal of Greece.
Wed 02.05
No matter how much they were pleaded for, most toys are junk and lose their appeal to tots approximately 10 minutes after they've been opened. I just went through my garage, and half of the space was filled with unwanted toys. Much like Mom Snobs and their bags, kids need just a few versatile, quality pieces to keep them happy. It also doesn't hurt that this will save said Mom Snobs money and garage space!
Thu 01.23
Gardening with your tots is the single best way to teach them about food and health. They will eat what they grow and love the entire process. I do not have a green thumb but I try my best to keep a garden with my kids – a very small and manageable garden. Chuckle Farm has kits for kids that are perfect for my style of gardening.
Tue 12.31
A handmade treehouse bed is one any tot would love, including a grown tot like myself! Those who hate bedtime will suddenly be much more excited to hit the hay. This is also great for families who live in less temperate regions where outdoor treehouses get little use. Besides, the charm is that Mathy By Bols is bringing the outdoors, indoors!
Fri 12.13
When it comes to dressing up tots for the holidays, there's no better brand than Ralph Lauren. You don't want to spend a million (*cough* Lanvin *cough*) on seasonal wear that they might outgrow next year, but those special family photos call for special outfits.
Tue 12.03
I just had holiday pictures taken, and now that I've spent all that money on such precious photos, I want to make sure they're well displayed! These vibrant wall decals would brighten up any room, but since tots love looking at themselves, their bedrooms would be the best places.
Wed 11.27
According to psychologist Toni Schutta, a recent University of San Diego study found a 30% increase in narcissism in incoming college freshmen, making it more pressing than ever for parents to take the time to instill good morals and values into their tots. Even when I travel, I Skype with the boy in the morning, afternoon, and at bedtime.