Tot Snob
Tue 12.03
I just had holiday pictures taken, and now that I've spent all that money on such precious photos, I want to make sure they're well displayed! These vibrant wall decals would brighten up any room, but since tots love looking at themselves, their bedrooms would be the best places.
Wed 11.27
According to psychologist Toni Schutta, a recent University of San Diego study found a 30% increase in narcissism in incoming college freshmen, making it more pressing than ever for parents to take the time to instill good morals and values into their tots. Even when I travel, I Skype with the boy in the morning, afternoon, and at bedtime.
Mon 11.25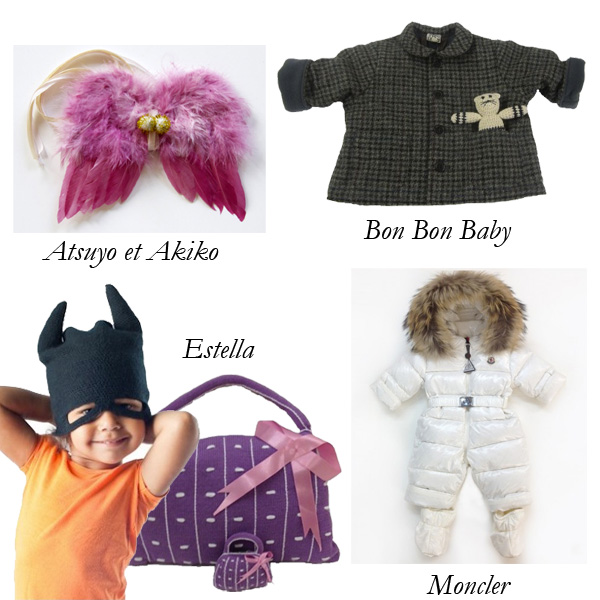 When it comes to what tots want, who (short of the tots themselves) would know better than moms? That's the idea behind Estella, a shop in NYC that stocks only mom-designed brands, ranging from unknown designers to household names. There's even an organic collection! Which pieces will be you picking up for your kids this holiday season?
Mon 11.04
Win a $500 shopping spree from celeb favorite maternity brand Isabella Oliver! Angelina Jolie, Kate Winslet…just about every mom in Hollywood has sported London-based designer Baukjen de Swaan Arons' clothes. Kristen Bell edged up her billowing blue dress last winter with the brand's Lucy leather jacket.
Tue 10.22
While it's not unusual for tots to play dress up, these celeb kids take the game to a whole new level. Suri Cruise leads the pack in a navy bow-embellished dress from Oscar de la Renta (at Oscar de la Renta for $295). She's the picture of a classic schoolgirl, save for her furry bright pink coat, a touch that ODLR probably wouldn't have added, but that any little girl would love.
Fri 10.18
With the holidays coming up, I'm on the lookout for unique tot gifts. While it's nice to get your kids what they ask for, it's even more fun to see their faces when you've gotten them a gift they didn't even know they wanted and Lotty Dotty is certainly not something you see everyday.