Shoes
We've not yet seen much of the UK's newest royal, save for the day she left the hospital in Kate's arms and her first official photos, but you know that once she's up and walking, there won't be another babe in the land as well-heeled as Princess Charlotte Elizabeth Diana.
These tiny rhino boots are so cute you'll wish it would start sprinkling outside (especially if you're living through the California drought!).
The constant shopping for your tot's wardrobe can be fun but also daunting at times, so I've taken out the guesswork with a roundup of girly summer essentials – heart-embellished sandals, floral appliqués on hats, and pink dresses accented ever so subtly with a silver, glittery sheen.
While it's not unusual for tots to play dress up, these celeb kids take the game to a whole new level. Suri Cruise leads the pack in a navy bow-embellished dress from Oscar de la Renta (at Oscar de la Renta for $295). She's the picture of a classic schoolgirl, save for her furry bright pink coat, a touch that ODLR probably wouldn't have added, but that any little girl would love.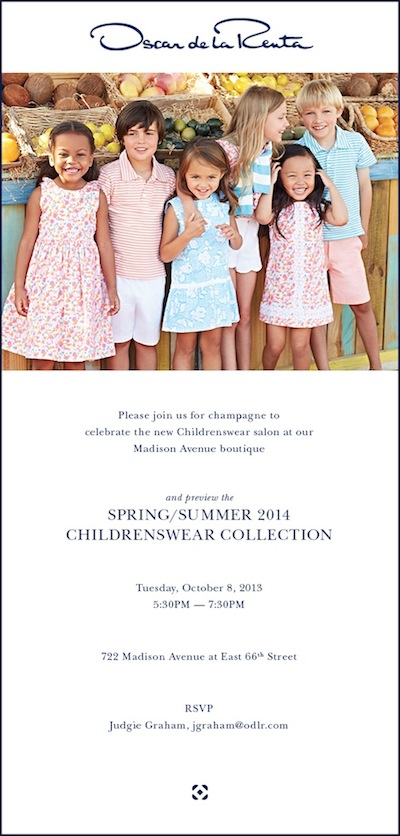 Oscar de la Renta isn't just the master of glittering gowns and sparkly minaudières – he's equally skilled in the children's department! So it only makes sense that his luxe Madison Ave. boutique has a salon for tots. They'll be holding a party there on October 8th to celebrate its opening with champs for the adults and plenty of cute clothes for the little ones.
Charlotte Olympia's quirky creations are finally available for tots! Really, it makes a lot of sense – who would love a pair of kitty cat flats more than little girls?? The collection is named after the "Incy Wincy Spider" nursery rhyme – seriously appropriate considering Olympia's logo is a web.
What better way to get kids interested in fashion than with a catalogue modeled on a child's picture book? The creative campaign mixes photos of Fendi-wearing tots with wintery illustrations of cute little animals. In a collection inspired by the great outdoors, fur naturally takes center stage, appearing on hats (only tots can pull off the Davy Crockett look), boots, coats, and even collars.
Vans and Sanrio, the maker of all things Hello Kitty, have teamed up again to create a collection of footwear, sportswear, and accessories for women and girls. It seems like the famous kitten has collaborated with every brand out there and always with success. Little girls love her and much like their Mom Snobs, they … Continue reading Vans x Hello Kitty Collection: Catwalking