Beauty News
Fri 01.24
Think about how many foundations come in just three shades – light, medium, and dark. You're lucky if one of them truly matches your skin tone, which is just one of the many reasons why Jodie Patterson and Benjamin Bernet founded DOOBOP. The site is the first beauty e-tailer designed specifically for multi-ethnic women.
Thu 01.09
I have anxiety issues leaving my Chelsea gym because it's located within arm's length of where about 1,000,000,000 people I know work. There is not one day – no matter how cold, rainy, or snowy it is – that I don't leave that gym wearing sunglasses. Why? Because for me to look presentable it takes a good 30 minutes, and I don't feel like fighting for the blow driers and counter space at my gym…
Wed 12.18
La Prairie held a splashy event to launch two new products that are the result of major innovation. They're coming out early next year, but I had the chance to check them both out now: the Cellular Swiss Ice Crystal Cream and the Cellular Swiss Ice Crystal Dry Oil, which can work separately or together.
Tue 11.05
Sure you can buy L'Oreal products on pretty much every street corner in New York City, but now through December 30th, you can also buy them underground. That's right…you can buy your eye shadow and foundation when you're on the go now that L'Oreal has unveiled the first ever "intelligent vending experience" in the Bryant Park subway station.
Tue 10.15
A few days ago Barneys New York had a breakfast to celebrate their new beauty floor. They've added a whopping 1,000 square feet to their NYC beauty space and 8,000 in Beverly Hills. To mark the occasion the retailer invited a bunch of industry heavyweights for a panel discussion.
Wed 10.02
I couldn't even begin to count the number of times I've found myself in a cab off to start my night only to start profusely sweating and be in need of deodorant. Now thanks to eBay Now if ever I'm at a bar or at a meeting or on the go non-stop and need something, they will deliver it in about an hour via messenger. Broken heel? Smelly armpits? Stained clothes? No problem!
Wed 09.18
The hype around Marc Jacobs' makeup has turned out to be very justified. This weekend, I tried out the Mod eye palette and mascara gifted by Tina and was instantly excited.
Thu 09.05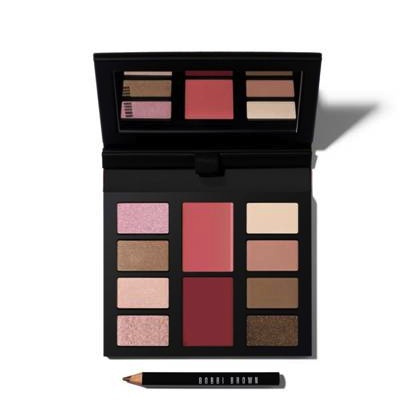 Two of my favorite ladies have come together for one great capsule collection! What's not to love? Even though Bobbi Brown's company has been in business for more than 20 years, Katie Holmes is the first celebrity to act as its face. This makes sense – quality products like Bobbi's need no endorsement. The collaboration with Katie came about organically.
Thu 08.29
The NYTimes recently published a very interesting story on lipsticks – and by interesting I mean I'm thanking my lucky stars that I usually opt for Blistex instead of a color product. We've long heard that some lipsticks have lead in them – lead has been associated with a slew of ailments including infertility, learning and behavior disorders, seizures, and even death, and that's exactly why it's been banned from products we're exposed to everyday like paint.