Body
Mon 03.10
I've been a fan of Mama Mio since they launched because they advocate beauty and fitness. They don't promise that their products are going to magically make you slender or toned, but they say that if you take care of your body and use their products you'll see results and I've always trusted them because of their honest approach.
Wed 03.05
Shea Terra Organics is a natural skin care line made with unique, indigenous ingredients from Africa. The brand hopes to support the economy of third world countries by sourcing all of their ingredients from them. Their main go-to ingredient is shea butter, one of my all-time favorites (thank you L'Occitane!), which they combine with a number of others that have been proven to help heal skin.
Mon 03.03
Prtty Peaushun Skin Tight body lotion is one of the best things you can get for your post-baby physique – or any physique, for that matter!
Fri 02.28
With all the luxe salts I buy, my love of baths has recently been turning into a financial liability. Before someone decided to stage an intervention, I took matters into my own hands and tried the DIY route. It doesn't require a chemistry degree or anything too complicated – just your sense of smell!
Thu 02.20
Legend has it that Cleopatra bathed in milk and honey…if it was good enough for Cleopatra, reason dictates that there must be some fantastic beauty benefits to honey. Honey, in fact, is a natural humectant meaning it draws water to the skin so it's awesome this time of year when skin tends to be dry.
Tue 01.28
My gym uses only (MALIN+GOETZ) products, which is pretty fancy pants. It's about the best fancy pants brand for a boutique fitness studio to use because their products have a unique consistency that discourages being wasteful. My favorite is their rum body wash ($36).
Tue 01.21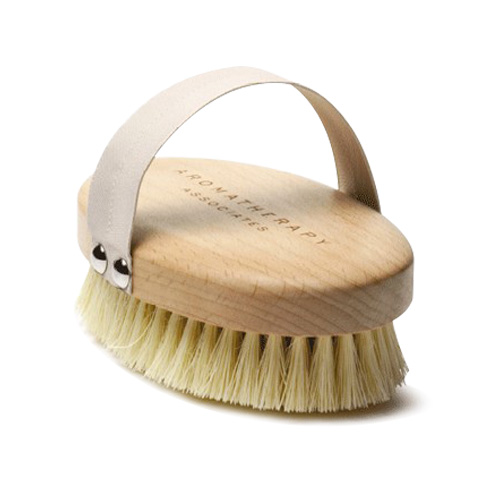 When I was in Thailand I had my first experiences with dry brushing at a spa. I was told it would help not only exfoliate, but stimulate circulation. Makes sense! That's why I use "rough" scrubs on my body. In speaking with my therapist, however, she also said it was one of the most effective ways to fight cellulite.
Wed 01.15
The number one reason people have bad reactions to skincare and makeup is fragrance. There's an Armani mascara I love, but it's scented and my eyes would without fail start to tear within seconds of putting it on – too bad really because I loved the idea of telling people that my eyelashes were scented…
Mon 01.06
Packaging isn't everything in the beauty world, but when a sumptuous product finds its way into equally delectable packaging, the must-have effect goes through the roof. That's how I feel about everything from Texas-based Farmhouse Fresh beauty, especially their Sweet Cream body milk lotion.