Body
Tue 01.28
My gym uses only (MALIN+GOETZ) products, which is pretty fancy pants. It's about the best fancy pants brand for a boutique fitness studio to use because their products have a unique consistency that discourages being wasteful. My favorite is their rum body wash ($36).
Tue 01.21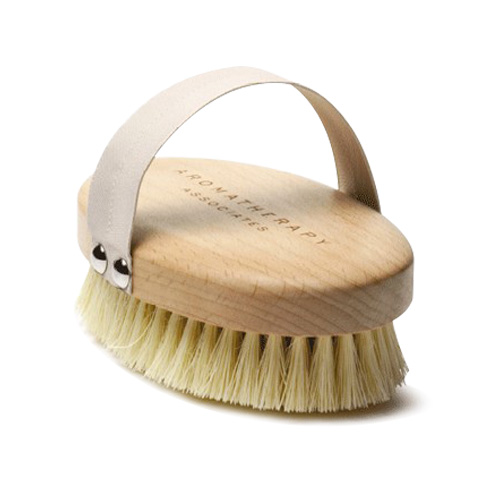 When I was in Thailand I had my first experiences with dry brushing at a spa. I was told it would help not only exfoliate, but stimulate circulation. Makes sense! That's why I use "rough" scrubs on my body. In speaking with my therapist, however, she also said it was one of the most effective ways to fight cellulite.
Wed 01.15
The number one reason people have bad reactions to skincare and makeup is fragrance. There's an Armani mascara I love, but it's scented and my eyes would without fail start to tear within seconds of putting it on – too bad really because I loved the idea of telling people that my eyelashes were scented…
Mon 01.06
Packaging isn't everything in the beauty world, but when a sumptuous product finds its way into equally delectable packaging, the must-have effect goes through the roof. That's how I feel about everything from Texas-based Farmhouse Fresh beauty, especially their Sweet Cream body milk lotion.
Thu 01.02
Taking care of my below-the-belt area needs to go beyond my regular waxing because I workout and sweat so much…seriously eww if you just rely on water!!!! Feeling fresh "down there" is key, and Healthy Hoo Hoo makes it easy and safe (their products are pH balanced and made without the use of harsh chemicals) with their natural and paraben-free feminine care items.
Fri 12.27
Who doesn't love Rodial and their Boob Job, Crash Diet and other cheekily-named body products? Unfortunately because the amount of actives that are packed in each of them, those products don't come cheap. What does come cheap is the brand's diffusion line Nip + Fab and they've just launched a new line bath and body products all of which retail for under $10.
Fri 12.06
Winter has come, and dry skin along with it. I don't just need moisturizing – I need intense therapeutic care, and fortunately, I've found it in Kahina Beauty's FEZ body serum.
Thu 12.05
With a name like The Gnarly Whale you know this brand has to be eco-friendly and vegan…am I right!? And I don't mean that in a bad way…am totally loving the name and the fact that the brand focuses on using as few ingredients as possible in their all-natural bath and body line-up.
Fri 11.15
The bath is my sanctuary. A nice, long soak solves all most problems, whether it's exhaustion, a headache, an oncoming cold, or just general crankiness. It's about as close to the Fountain of Youth as we're going to get. You step in after a long day, and reemerge fresh and new.