Celeb Beauty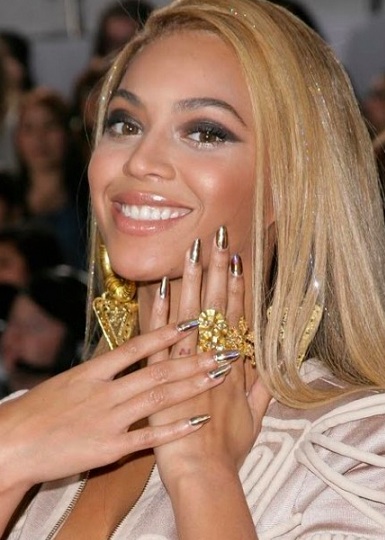 Judging by most of the influencers in the nail color game metallics are it for fall. Countless brands including essie and Estee Lauder are launching metallic collections for the coming season and I'm loving them because for once they're saturated metallic hues! Remember when Minx nails were having a moment?
Normally age inappropriateness comes from the more mature set trying to look younger (think 40-somethings with ombre-hued hair), yet at last night's Teen Choice Awards, it was the 20-something celebs who committed age inappropriateness. What's going on? Is Lady Bird Johnson trending?
Jen Aniston's friend and hairstylist Chris McMillan posted a picture of the actress on Instagram a few days ago without a stitch of makeup and wow does she look amazing! I love that she hasn't gone crazy with the Botox. Her forehead lines add to her carefree image without distracting from her beauty and she seems to have great skin.
I'm completely obsessed with Jessica Biel ever since I heard she was at a Barry's Bootcamp class in the Hamptons working out alongside all the "common folks" and… Justin Timberlake. I had a few friends in the class and they all said the two were totally laid back and did nothing to draw attention to … Continue reading Get The Look: Jessica Biel's Natural Highlights
Oy! Is there any better word to describe what is going on in the above image of Kelly Bensimon? I'm all for a casual tousled ponytail – in fact I love it! It's one of the few looks that looks easy to achieve and actually is, but it does take some effort.
I'm a huge fan of Salma Hayek because of her entrepreneurial ventures. She's the woman behind Cooler Cleanse and in 2011 she launched a range of beauty, hair, and skin products called Nuance, sold exclusively at CVS. I was sent a few skin product to try out and was impressed at how light and clean the scents were.
'm a big fan of the bun, but come summer I like to loosen it up and keep it more casual. I'm also less strict about my hair being completely flat ironed. I love how Kylie Minogue has left some of her natural texture in the photo above…
Miranda Kerr's skincare line, KORA Organics, is now available on NET-A-PORTER – we're merely a click away from supermodel gorgeousness (that's what I tell myself anyway). Between Kerr's collection and Josie Maran cosmetics, it seems models have a love of all-natural beauty.
One of the trickiest things when it comes to makeup is getting your blush just right. Rosie Huntington-Whiteley knocked it out of the park in the picture above with her on point use of blush. The go-to test for finding the shade that's right for you is to lightly pinch your cheeks and match the … Continue reading Get the Look: Rosie Huntington-Whiteley's Cheeks