Red Carpet
Last night hundreds of fashion's biggest stars graced the red-carpeted steps of the Met for its annual gala, including the always on-point, Oscar de la Renta-clad SJP – the brightest star of all, though, was Zac Posen.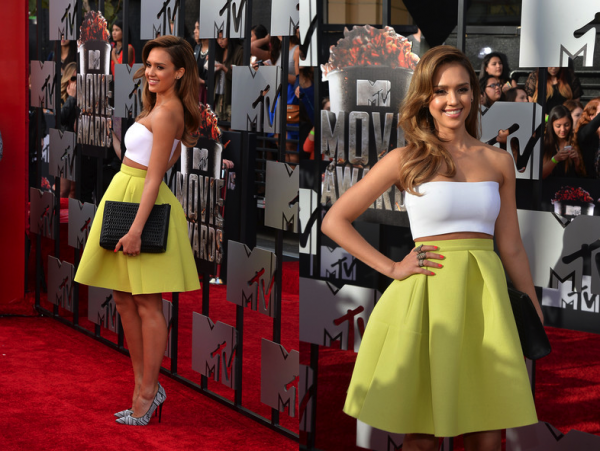 The best prize at last night's MTV Movie Awards came from none other than Narciso Rodriguez. In line with Jess' eco-friendly empire, he made this black, crocheted clutch from aluminum soda bottle tops and named the bag after her! It's no wonder why this woman would inspire designers – she's a perpetually stylish muse.
This week Kelly had a front row seat for the Golden Globes red carpet, while Tina took a trip to NYC to preview Victoria Beckham's newest bags…
I think Emily Blunt looked fantastic at this year's Met Gala. In fact her look has stuck with me even weeks later because while it's a bit out there, I think her take on punk could work even for a non-punk themed evening out. The key is pairing this bold eye makeup look with an … Continue reading Emily Blunt's Neon Eye: Snob or Slob?
Between the Cannes Film Festival and the Billboard Awards, there's been no shortage of red carpets lately. Celebs need to be at their best and brightest to steal the spotlight at star-studded events like these, and the easiest way? A look-at-me bold lip. Nothing crazy or fluorescent – a ruby red shade lip Miley Cyrus' … Continue reading Celeb Trend: Bright Lips
Carey Mulligan rarely lets her hair down. I mean that literally – she loves updos on the red carpet. But when you're attending the opening ceremony of the Cannes Film Festival (and the premiere your new movie!) the stakes are raised, and Ms. Mulligan met them with serious panache. She was the picture of Hollywood … Continue reading Steal the Look: Carey Mulligan at the Cannes Film Festival
No one would accuse punk style of seeming very put-together, which makes the punk nail art inherently confusing. In the '80s, it was all about chipped, black nails. Of course no one dared try that at the MET Gala (she would have been the truest punk there). It was all about fancy gowns, big jewels, … Continue reading Trend Alert: Punk Nail Art