Hair
Tue 10.01
If there's one collection no one can get off their mind it's Rick Owens. Taking diversity to a whole new level, the designer opted to enlist a troupe of athletic steppers to perform in his creations this season. That's right – not one model was used. Better yet the hair and makeup was all about making the performers feel comfortable so this was truly "real woman beauty."
Thu 09.26
Thank you Miley Cyrus for not only convincing me that we are doomed as a culture, but for ushering in one of the worst hair trends in years. I can't count the number of women I've seen at events these last few weeks sporting a nubby devil bun hairstyle and not one of them has looked anything other than ridiculous
Wed 09.25
Despite the fact that Frida Giannini was inspired by sportswear for her collection this season, it wouldn't be Gucci without serious sex appeal. To complement the designer's mesh tops and sheer bras, Pat McGrath opted for a shimmery golden-brown shadow with V-corners for a dewy take on the cat eye.
Tue 09.24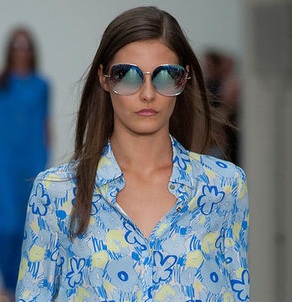 The 70s are back at Matthew Williamson… down to the sunglasses – I'm obsessed! I mean seriously…how amazing are those sunglasses and that sleek, side-parted hair? Skin was kept dewy with Benefit's Hello Flawlessicon, while cheeks were heavily contoured (eye shadow was even used to amp them up), and brows were made heavy.
Thu 09.19
My dad's favorite toy is his Maserati….who could blame him? There's nothing like driving top down, down an open road. If only my hair looked as fabulous as that of Rachel Zoe's models when windswept! (and my dad trusted me enough to drive his car…).
Tue 09.17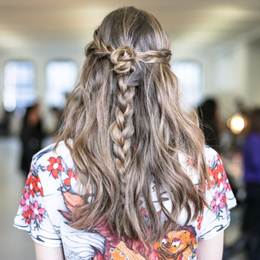 I'm a little obsessed with braids at the moment and there were so many on the runway. Rodarte's ready-to-wear collection was one of the more unfortunate ones I thought. It was inspired by L.A. and kind of a big hot mess. The hair however was fantastic! Working for John Frieda, Odile Gilbert created a "rocker princess with a cool, "undone" texture."
Fri 09.06
It's important to take care of your hair no matter how often you color treat it with color-specific, moisturizing products (color zaps moisture out), but now there's something new we can do to not only protect our hair, but to strengthen it. I went to the John Sahag hair salon a few weeks ago to get my highlights touched up, and they used a new line of permanent hair color from Keratin Complex…
Wed 08.28
Until recently I might have rolled my eyes at the thought of wearing a sweatband – how 80′s Olivia Newton-John! Truth be told however my hair gets to be pretty gross after most of my workouts because they're very long and try as I may, it's never totally out of my face when I'm running or moving around in power yoga.
Tue 08.20
Good hair can make a girl's day, and I have yet to see a celeb scowl with Jen Atkin at her side. Not only is she the hottest hairstylist in the biz, regularly taming the locks of clients like Sophia Vergara, doing hair for national ad campaigns, and working her magic on TV and in music videos for iconic artists like Madonna, Jen is also a social media wizard.