Hair
Wed 12.25
When it comes to hair products it's pretty hard to get me away from Oribe and Kerastase, but I couldn't resist the latest launches from Davines when my eyes caught their packaging. I'm a sucker for great bottles, and these look like mini presents!
Mon 12.23
Ahh the lengths we go to for a perfect head of curls! While my girlfriends with naturally curly hair spend a fortune straightening it, I prefer to do the opposite, testing out curler after curler in the hopes of finding one that will give me gorgeous waves. Here's what I discovered in my search…
Thu 12.05
With a name like The Gnarly Whale you know this brand has to be eco-friendly and vegan…am I right!? And I don't mean that in a bad way…am totally loving the name and the fact that the brand focuses on using as few ingredients as possible in their all-natural bath and body line-up.
Tue 12.03
Girl got style! I had the chance to see supermodel Alessandra Ambrosio up close backstage at the Victoria's Secret taping a few weeks ago and wow…legs for days!! But what really caught my eye was how effortlessly she carried herself. You can see it in the above image where she looks casual, but undeniably sexy AT THE AIRPORT!
Mon 12.02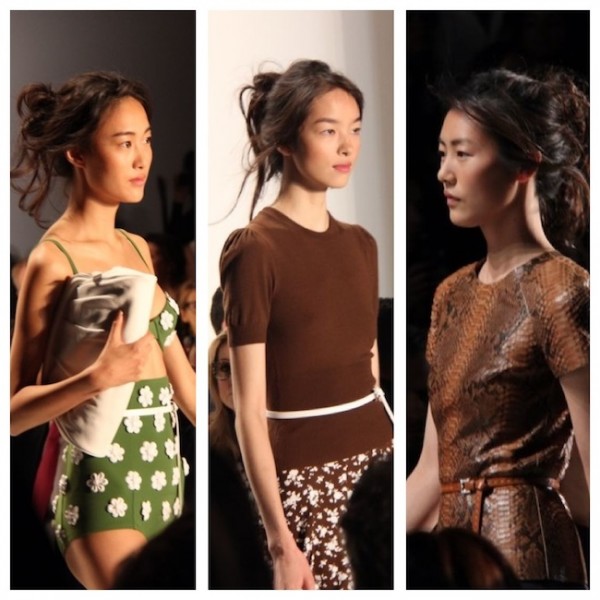 Half pony, half updo…I'm going to call this the pony-do! The hairstyle is the perfect blend of fun and formal. You'd be as likely to see it on the street as you would on the runway, making it a lifesaver on days when you're rushing between work, home, and an evening event.
Wed 11.20
Have a holiday party coming up? Time for a blowout! Get yours for under $50 at one of these Snobby salons.
Thu 11.14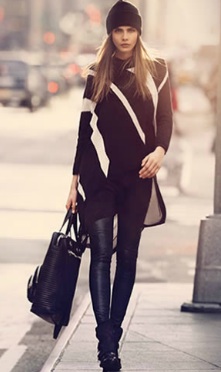 Now that it's winter…this is my look! A hat and straight, but slightly tousled hair as rocked by Cara Delevingne for the new DKNY Jeans ad campaign. The best part about this is if you pick the right hat (I'm partial to Rag & Bone), the hat becomes part of your outfit and you can wear it indoors as well so as not to worry about how your hair will look once you take it off.
Mon 11.11
I just got back from Munich a few days ago – home to Theresa as in the Theresa that belongs to mytheresa.com. If you have shopped the website you can just imagine how amazing the curated selection in the store is. Little surprise that one of the brand's main influencers, mytheresa.com senior fashion editor Veronika Heilbrunner, is always dressed to perfection.
Fri 11.08
If there was any doubt as to how gorgeous Karlie Kloss is it was assuaged in one of my recent Barry's Bootcamp classes. She was in my Monday morning class – I've never felt so short and stocky in my life! I'm also now newly obsessed with her slightly messy bob cut.