Styling Products
Thu 01.23
There is only one thing to do when it's freezing cold outside for days on end…go blonder! Well, that and book a trip to Miami, but that isn't always feasible so a few weeks ago I went to Oscar Blandi to get my highlights touched up and brightened. Amy did an amazing job, and I also had the chance to meet Gina Guercia, a very well-known editorial stylist who heads up the brand's product development.
Wed 12.25
When it comes to hair products it's pretty hard to get me away from Oribe and Kerastase, but I couldn't resist the latest launches from Davines when my eyes caught their packaging. I'm a sucker for great bottles, and these look like mini presents!
Tue 12.03
Girl got style! I had the chance to see supermodel Alessandra Ambrosio up close backstage at the Victoria's Secret taping a few weeks ago and wow…legs for days!! But what really caught my eye was how effortlessly she carried herself. You can see it in the above image where she looks casual, but undeniably sexy AT THE AIRPORT!
Mon 12.02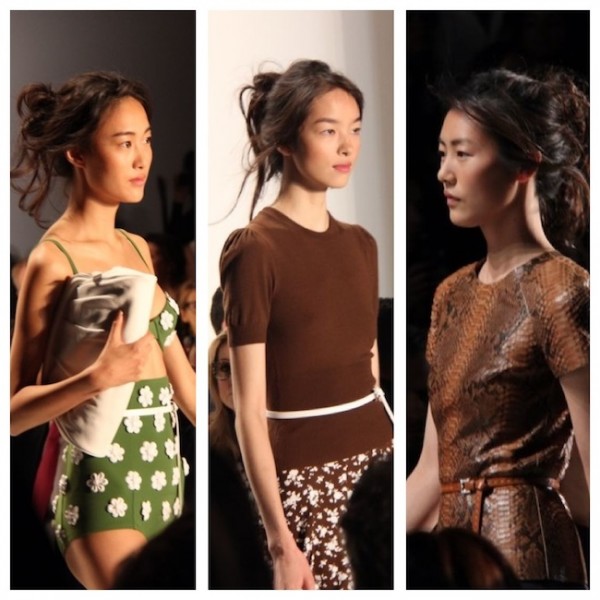 Half pony, half updo…I'm going to call this the pony-do! The hairstyle is the perfect blend of fun and formal. You'd be as likely to see it on the street as you would on the runway, making it a lifesaver on days when you're rushing between work, home, and an evening event.
Thu 11.14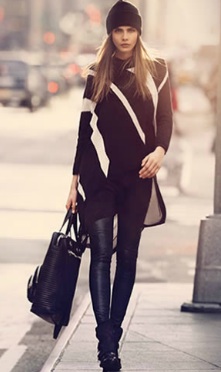 Now that it's winter…this is my look! A hat and straight, but slightly tousled hair as rocked by Cara Delevingne for the new DKNY Jeans ad campaign. The best part about this is if you pick the right hat (I'm partial to Rag & Bone), the hat becomes part of your outfit and you can wear it indoors as well so as not to worry about how your hair will look once you take it off.
Mon 11.11
I just got back from Munich a few days ago – home to Theresa as in the Theresa that belongs to mytheresa.com. If you have shopped the website you can just imagine how amazing the curated selection in the store is. Little surprise that one of the brand's main influencers, mytheresa.com senior fashion editor Veronika Heilbrunner, is always dressed to perfection.
Thu 09.19
My dad's favorite toy is his Maserati….who could blame him? There's nothing like driving top down, down an open road. If only my hair looked as fabulous as that of Rachel Zoe's models when windswept! (and my dad trusted me enough to drive his car…).
Fri 09.06
It's important to take care of your hair no matter how often you color treat it with color-specific, moisturizing products (color zaps moisture out), but now there's something new we can do to not only protect our hair, but to strengthen it. I went to the John Sahag hair salon a few weeks ago to get my highlights touched up, and they used a new line of permanent hair color from Keratin Complex…
Tue 08.20
Good hair can make a girl's day, and I have yet to see a celeb scowl with Jen Atkin at her side. Not only is she the hottest hairstylist in the biz, regularly taming the locks of clients like Sophia Vergara, doing hair for national ad campaigns, and working her magic on TV and in music videos for iconic artists like Madonna, Jen is also a social media wizard.