Styling Products
Kérastase launched a few new products recently, and one of them is a pre-shampoo – more or less the last product I'd ever think I'd become obsessed with. Who has time for a pre-shampoo, I thought to myself?? It sounds annoying and useless, but it's far from it.
We always hear about dry shampoo, but Serge Normant is the first luxury brand (at least that I've come across) to come out with both a dry shampoo AND a dry conditioner. It's basically one of those products you never knew you needed, and then once you have it you wonder how you ever lived without it.
There is only one thing to do when it's freezing cold outside for days on end…go blonder! Well, that and book a trip to Miami, but that isn't always feasible so a few weeks ago I went to Oscar Blandi to get my highlights touched up and brightened. Amy did an amazing job, and I also had the chance to meet Gina Guercia, a very well-known editorial stylist who heads up the brand's product development.
When it comes to hair products it's pretty hard to get me away from Oribe and Kerastase, but I couldn't resist the latest launches from Davines when my eyes caught their packaging. I'm a sucker for great bottles, and these look like mini presents!
Girl got style! I had the chance to see supermodel Alessandra Ambrosio up close backstage at the Victoria's Secret taping a few weeks ago and wow…legs for days!! But what really caught my eye was how effortlessly she carried herself. You can see it in the above image where she looks casual, but undeniably sexy AT THE AIRPORT!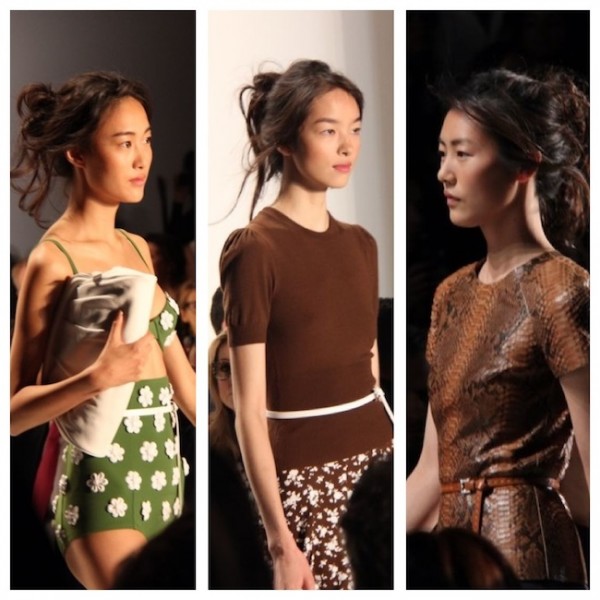 Half pony, half updo…I'm going to call this the pony-do! The hairstyle is the perfect blend of fun and formal. You'd be as likely to see it on the street as you would on the runway, making it a lifesaver on days when you're rushing between work, home, and an evening event.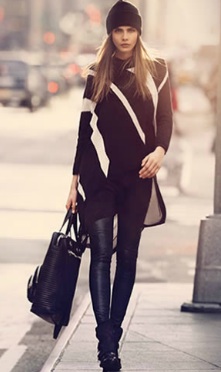 Now that it's winter…this is my look! A hat and straight, but slightly tousled hair as rocked by Cara Delevingne for the new DKNY Jeans ad campaign. The best part about this is if you pick the right hat (I'm partial to Rag & Bone), the hat becomes part of your outfit and you can wear it indoors as well so as not to worry about how your hair will look once you take it off.
I just got back from Munich a few days ago – home to Theresa as in the Theresa that belongs to mytheresa.com. If you have shopped the website you can just imagine how amazing the curated selection in the store is. Little surprise that one of the brand's main influencers, mytheresa.com senior fashion editor Veronika Heilbrunner, is always dressed to perfection.
My dad's favorite toy is his Maserati….who could blame him? There's nothing like driving top down, down an open road. If only my hair looked as fabulous as that of Rachel Zoe's models when windswept! (and my dad trusted me enough to drive his car…).