Health
Thu 08.01
There is so much information (and misinformation…), out there when it comes to supplements and weight loss I wanted to go straight to a reliable source. I spoke with Michele McRae, Sr. Director of Research, Formulation & Quality at Rainbow Light, to find out more about some dos and donts. Why are there such big […]
Wed 07.31
I've been pretty obsessed with probiotics lately (who doesn't want a healthy gut??!), and have been eating a ton of Greek non-fat yogurt, but when I'm looking for something a little bit better at soothing my sweet cravings, I reach for Noosa. It's an Australian yogurt – i.e. a Greek-style yogurt that's sweetened with honey.
Fri 07.19
There are so many skinny branded products out there and admittedly I was biased after finding out just how much sugar is in "skinny pioneer" Bethenny Frankel's products. Obviously you can brand anything skinny…it's not a regulated term like "organic" and it's a pretty easy way to make people more likely to buy your products.
Fri 07.12
My friend sent me this article from the WSJ last week – who knew there was such a thing as National Ice Tea Month?? Any excuse to talk about the benefits of tea I'll take it! I drink it pretty much every day and it works wonders on not only your skin, but your stress levels and countless studies have shown that the polyphenols derived from tea can help ward off several chronic diseases.
Tue 07.09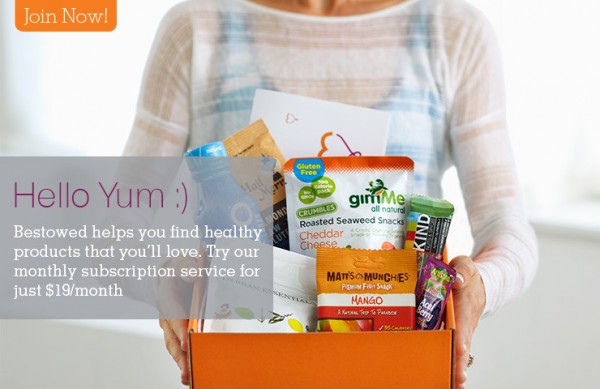 Rare is the day I don't pop into my local health food store at one point or another so when it comes to healthy snacks…I've seen countless. If there's one thing I've gathered from checking out celebrity nutritionist Heather Bauer's new monthly subscription service, Bestowed, however it's that there's always something new and great to try.
Fri 07.05
I try not to eat too much dairy because I have a hard time digesting it, but one thing I'm trying to keep in my diet is Greek yogurt. Greek yogurt's protein content is usually double that of regular yogurt and it's rich in probiotics, friendly bacteria that lives in our intestines.
Wed 07.03
It can be hard to motivate yourself to go to sleep early/exercise/eat better, so Jawbone's come up with cute little accessory to gently remind us.
Wed 06.12
Soooo….apparently last week was Hemp History Week. Who knew? Thanks to Whole Foods for the alert! Whole Foods in fact carries a ton of hemp products – like literally, a ton – hemp milk, cereals, granola, waffles, protein powders, nutrition bars, breads, snacks, chips, pastas, flour, vegetarian burgers, and a large variety of personal care […]
Fri 06.07
New diet books are a dime a dozen, but one that has been making major waves as of late is The FastDiet: Lose Weight, Stay Healthy, and Live Longer with the Simple Secret of Intermittent Fasting ($14.39). A big hit in the UK, the book recently came to the US and has already been lauded […]