Nails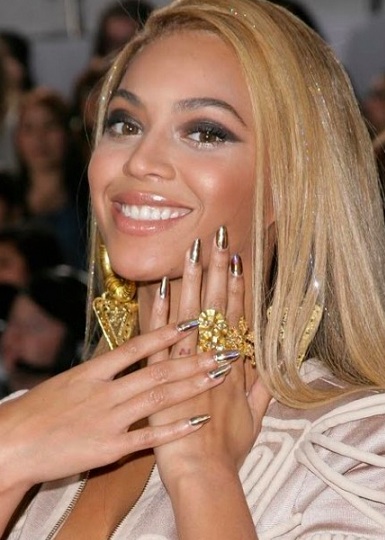 Judging by most of the influencers in the nail color game metallics are it for fall. Countless brands including essie and Estee Lauder are launching metallic collections for the coming season and I'm loving them because for once they're saturated metallic hues! Remember when Minx nails were having a moment?
Can summer please be over already?? It's been 104 degrees here in Texas all week long. I know, I know – I complained when it was cold and now I'm complaining that it's hot. To be honest, I'm also just tired of summer clothes. I'm ready to roll out my fall noir repertoire! All I need are a few more beauty options to complete the romantic look, and NARS has them.
I recently came across this ad for a Miami-based jewelry store and couldn't take my eyes off the female model's pointy nails. We've seen Fergie, Beyonce, Adele, Rihanna, and a handful of other stars perfect this shape, which works great if you're trying to elongate your fingers.
Chanel seemed like the kind of Snob who made her own luck in life, but when it came down to it, she was superstitious. The icon kept tons of good luck charms around her, and I have a feeling these products will be ours this fall. After all, looking good makes you feel good, and when you feel good, you do well, right?
I love scouring the beauty counter at Neiman's, but it's also nice when someone else does the work. That's what Glossybox is all about. Each month, they curate a collection of five to six travel-sized products, and have it sent right to your door! Pretty sweet deal, huh?
Are you Snobs ready for July 4th?? In honor of Independence Day, turn your vanity red, white, and blue! I'm not suggesting you leave the house looking like a flag, but make sure your Americana meter is on high.
When the French collaborate together, you can expect twice the chic! Don't miss out on these limited edition goodies from NARS and Pierre Hardy. I love the blushes ($41 each), especially the coral-pink Boys Don't Cry. Gold shimmer lines the palette in Hardy's signature geometric print, ensuring that you get both color and shine. I … Continue reading NARS x Pierre Hardy: Fashionable Beauty
I haven't gotten on the nail art bandwagon yet. I'm still all about my solid glossy polishes, but I have to say…. Ciate's Chalkboard Manicure Set ($25- $40 value) looks like fun! Basically you apply a base coat, then two coats of matte black polish (aka your chalkboard), let the polish dry (15 minutes – … Continue reading Ciate Chalkboard Manicure