Runway
Mon 09.09
Anytime a show is called "Oasis," expectations are going to be high, but of course DVF had no trouble delivering. From flowing maxi dresses to jean skirts to shift dresses, her Spring 2014 collection was relaxed, yet flattering. What more would you expect from the woman who gave us the wrap dress?
Sun 09.08
Think of just denim when you think Rag and Bone? Think again. David Neville and Marcus Wainwright are still super-focused on free and easy "real" clothes, ideal for models dashing around downtown in between castings, but their vision is elevated.
Sun 09.08
To anyone out there who still doubts Victoria Beckham's validity as a designer (and there aren't many of them left), her Spring 2014 collection is set to change their minds. When she launched her line five years ago, she was all about the body: showing it off, emphasizing its feminine curves, and highlighting its best assets.
Sun 09.08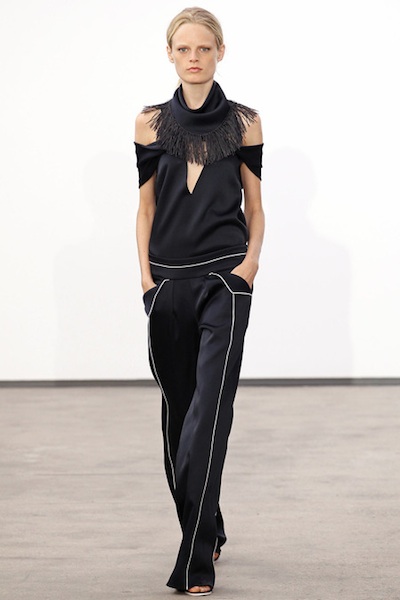 Spring 2014 marks a masterful collection from Derek Lam, one that's impossibly covetable and wearable in equal measures. I spoke with him just 30 minutes before the show, and he gave me the lowdown on what inspired him.
Sat 09.07
Sometimes the word pretty is a filler, as inconsequential as saying someone you've just met is "really nice." And sometimes, like during NYFW, it's a fine compliment. So goes it with Peter Som's Spring '14 runway show. All I could keep thinking is: 'How pretty are these clothes?!' He has always executed this well, and now he's doing it better than ever – with plenty of edge to finish it off.
Fri 09.06
The dance has begun. Do you have your dress ready? You'd better make sure it's by Jason Wu because come Spring 2014, he wants to take you dancing, each and every day. (Well, it was actually me he offered to take dancing daily, but seeing I'm a married woman I'm offering him up to you single ladies).