Runway
Thu 02.13
Like the creed of the USPS, neither snow, nor rain, nor sleet, nor hail could keep me from going to Ralph Lauren in the middle of the snowstorm. As a girl from LA, I was very proud of myself, especially since I took the subway and walked six blocks in treacherous weather conditions.
Thu 02.13
When you think of Jason Wu, you don't think masculine two-piece suiting. However, at Hugo Boss, Jason proved he's not only a top contender in the genre of beautiful gowns, he is a tailor to be reckoned with.
Wed 02.12
When it comes to Marchesa, you are accustomed to expecting certain things that would never cross your mind when sitting down to another show. Things like sweet ethereality, unapologetic femininity, and the all-out appreciation of beauty in the truest, purest sense of the word.
Wed 02.12
Despite half the attendees nearly missing the show (I was running behind Grace Coddington, who later turned to me in elevator and said, "I am too old for this!") due to a horrific accident that shut down Seventh Avenue, the mood inside Spring Studios was upbeat and energetic. Both DVF and Michael Kors cut their shows by half to show at the new location on Varick Street.
Wed 02.12
What more is there to say about the modern master of contemporary beauty and elegance that hasn't already been said? Plenty! Just when you think there is no way Oscar de la Renta can produce yet another overflowing collection of countless looks, each one more inspired and desirable than the last, he does it again.
Wed 02.12
The lovely prints that have surfaced for the Fall 2014 season are the standouts of New York Fashion Week for me, from the already-dramatic gowns of Monique Lhuillier, Naeem Khan, and Dennis Basso enlivened with inspired prints to the playful dresses by Tracy Reese, Alice + Olivia, and Carolina Herrera.
Tue 02.11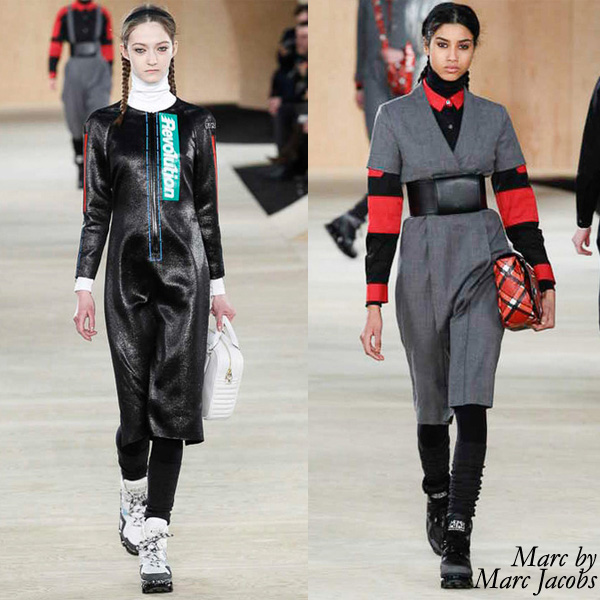 Rodarte is getting a lot of attention today for their Star Wars-inspired collection, but when it comes to sources of inspiration, I'm more interested in Luella Bartley and Katie Hillier's – Japanese anime speed racers.
Tue 02.11
Last season, Jenny Packham, aka fashion's resident queen of romantic, sparkly eveningwear, got a little bit relaxed and showed it by imparting day looks into her Spring collection. For Fall 2014, she is continuing on that more laid-back path, but forget the sugar-sweet ingénue. This time around, it's all about after-dark insouciance.
Tue 02.11
In the midst of preparations, Elie Tahari took a few minutes to speak with me in his office. The quiet before the storm gave him a respite from the madness 30 minutes before showtime and allowed me to ask about the big shift this season.