Runway
Sun 02.09
It's not easy being Alexander Wang. Between responsibilities helming both the house of Balenciaga and his own eponymous line, the 30-year-old is currently shouldering more than most take on in a lifetime. No matter to him, it seems. He carries it all with natural grace and insoluble ease (and a big happy smile; every time I see him he's smiling!).
Sat 02.08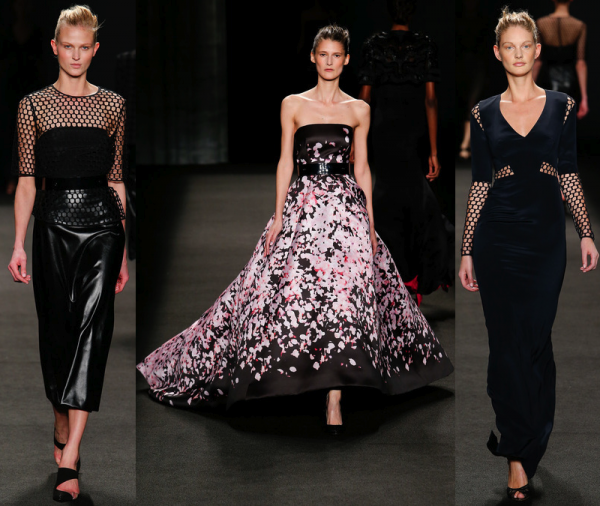 When you think of Monique Lhuillier, you think of show-stopping gowns, and in that respect, her Fall 2014 collection more than delivered. I love color for autumn, but unlike most designers, Monique typically offers color every season – and more often than that, bridal white. So in a way, the use of mostly grays and blacks this time around is even more intriguing.
Sat 02.08
Flasher in leopard G-string aside (the man, also wearing a gold crown and red tube socks, artfully dodged the security using models as his shield), Prabal Gurung showed a highly wearable and softly pretty collection for the Fall 2014 season.
Fri 02.07
Calling all sexy outdoorswomen, hot bowling enthusiasts (and leggings enthusiasts, for that matter), vixen-cum-tomboys, and models with definitive senses of style: Rag & Bone's Fall 2014 collection just hit the runway, and it was made just for you.
Fri 02.07
Who you calling ingenue? Jason Wu is proving himself to be the new master of edgy sophistication. Opening with a dark, mature, introspectively and attractively moody tone right out of the gate, his Fall 2014 collection presents a supremely modern interpretation of the femme fatale.
Fri 02.07
Fashion Month is already off to a fantastically promising start! After the show for his Fall 2014 collection, Peter told me he had a certain girl in mind this season, a certain girl who has been inspiring designers for decades now: the inimitable Jane Birkin in her heyday of the seventies.
Fri 11.22
Florence Welch stepped out for last night's Museum of Natural History gala in NYC wearing a museum-worthy Valentino gown. The singer is often seen in designs from the Italian fashion house, and it's no wonder why. Her luxe boho aesthetic fits in perfectly with Maria Grazia and Pierpaolo's Spring/Summer 2014 collection, one inspired appropriately enough by opera.
Fri 11.15
The Spring 2014 runways were coated with jewels – at least the leg wear was! The sparkle came in all shapes and sizes from Simone Rocha's pearl-embellished knee-highs to Tom Ford's full-body crystallization. Admittedly, these are looks that require a grand forum, so I've picked out some pieces that are less editorial and more everyday.
Thu 10.24
Calling all my Dallas-based Snobs! This Friday, two of my favorite people are coming together at one of my favorite stores. The lovely China Chow is co-hosting a champagne-filled soiree at Forty Five Ten honoring the equally lovely Derek Lam.