Uncategorized
Fri 04.18
I'm on a crossbody kick right now. No bag is more essential during the summer months than this one, and Marc by Marc Jacobs is the go-to brand for Frugal Snob options. With a total of four pockets inside and out (including the must-have exterior compartment for your phone), this messenger is very practical, but you wouldn't know it from the fun, citrusy colorblocking.
Fri 03.07
I am completely obsessed with vintage steamer trunk suitcases, but the idea of carrying one throughout terminals at the expense of my back, arms, shoulders, and basically my entire body is very slim. Now I can have it all. The look of what I want in adorably compact form. This is impossibly cute, completely novelty (Charlotte Olympia, after all), and not actually useful on a daily basis.
Sun 02.09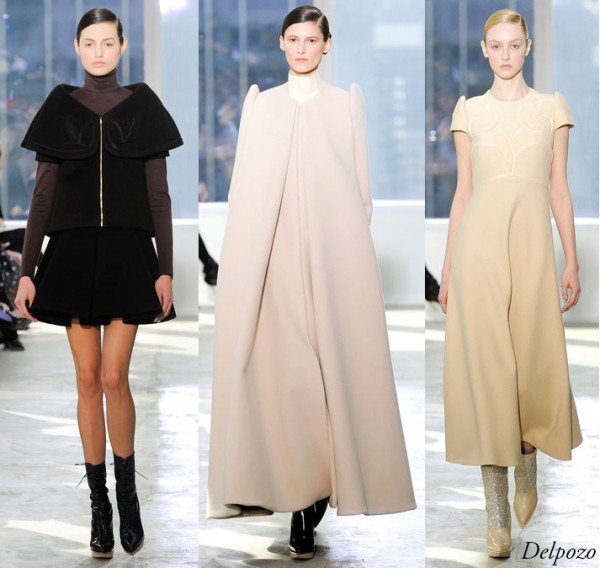 Whimsy. Enchantment. Ethereality. When it comes to the most elusive of qualities – and especially when it comes to the Fall 2014 collections – Delpozo makes achieving them look effortless. They remind us it's in the details, and theirs are intricate.
Tue 02.04
Never wait for a man to buy you what you can buy yourself. Don't get me wrong – I love to receive thoughtful and sentimental jewelry from my hubby, but if there's something that I just must have, I go ahead and get it. That way there's no need to subtly drop hints and heighten your expectations, only to find that your hints we in fact too subtle. Show yourself some love come February 14th with this Valentine's Day jewelry!
Thu 10.17
We have partnered with Restorsea (our latest beauty obsession!!) to bring you daily beauty tips all month long. Make sure to check in everyday to get gems of advise from our years of beauty compulsion. We will also be chatting with you on various social media outlets, starting today with a FaceBook chat at 3pm Eastern Time which will take place on the Restorsea Facebook Page.
Thu 07.18
The mosquitoes this year in the Hamptons are AWFUL! I've been really good about wearing bug spray, but last week I was at a friend's barbeque in Amagansett and her house is realllly country, so there were more bugs than you can even fathom. I sprayed my body everywhere that skin was exposed. I figured […]
Fri 06.07
I am re-posting this feature from 2011 in memoriam of a sweet friend with whom I did not have enough time. Dearest Type A: your wit, kindness, and beautiful heart will be missed so much by all of us. I don't understand why you were taken from us so soon but I would do anything […]
Wed 05.29
Do you have a few minutes to spare? Trust me – it'll be worth your while. Whether virtually or in person, head over to Bergdorf's ASAP. There's a sale up to 40% off! I've been coveting McQueen's Heroine bag ($2,311) for months and months, and at this reduced price, I'm now faced with an offer […]
Mon 05.06
Attention New York-based readers: do you have plans this Thursday evening? If not, consider heading over to Rockwood Music Hall for Project Model Tee's 2nd event raising funds for RAINN (the United States' largest anti-sexual assault organization). Buy a ticket and attend what will surely be a great time filled with beautiful people (hello, models!).