Web Snob
Thu 04.17
Another designer makes the runway move to Brooklyn! Find out which one here…
Wed 04.16
Today's Web Snob features a beautiful Kim Kardashian as Audrey Hepburn, a serious Versace investment, the best Don Draper kisses from every season, and a very special tour that will urge you to cancel all your summer plans.
Tue 04.15
This Tuesday calls for an exciting new H&M collaboration, Leonardo DiCaprio dancing his heart out, a Coachella style roundup, and a handy guide for the single Snobs in the Big Apple.
Fri 04.11
Thank god it's Friday! Today, we feature some of our favorite looks like ethno-chic accessories and block heels along with a Proenza Schouler feature, some essential fashion advice, a JPG interview, and a quest for the perfect stud earring.
Thu 04.10
Web Snob today features Michelle Williams and Louis Vuitton, a very expensive skincare routine, and a little timeline from cargos to skinny jeans.
Wed 04.09
Kate Moss for Topshop is back! Check out the lookbook here.
Tue 04.08
This fashion news roundup mourns Peaches Geldof, celebrates Tom Ford's marriage, embraces spring, and reveals the face of a new Calvin Klein fragrance.
Mon 04.07
Today is all about Miley Cyrus' Elle cover, her sparkly Marc Jacobs outfit, Harvey Milk, and nail inspiration.
Fri 04.04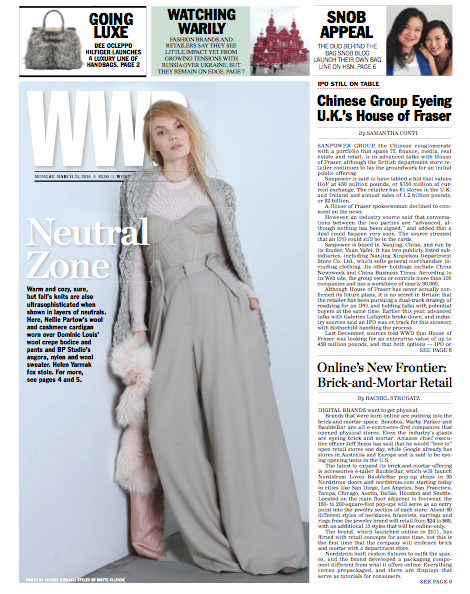 Today, we are all about the new Snob Essentials bag line, Coachella diets, celebrating 90′s Kate Moss, and the LVMH finalists…