Feet
Bedtime can be a stressful endeavor when you foresee yourself tossing and turning. Many nights I've found myself dead tired, but stress kept me from falling asleep; and it turned into a vicious cycle (especially when I ended up napping the next day as a result). There are, however, a few things I've found useful that Osmia Organics founder Sarah Villafranco has outlined for us below – even though some of them (like not checking email before bed) are way easier said than done! There's something about a little pre-bedtime pampering that works to alleviate some of the day's stress, and many of Villafranco's tips take just a few seconds to put into practice!
READ MORE >
The allure of baby soft feet is so strong that you'll go down any road to achieve the look. At least I will. Since I do yoga every day, my feet need to be in tip-top shape so that the rest of me can be too.
READ MORE >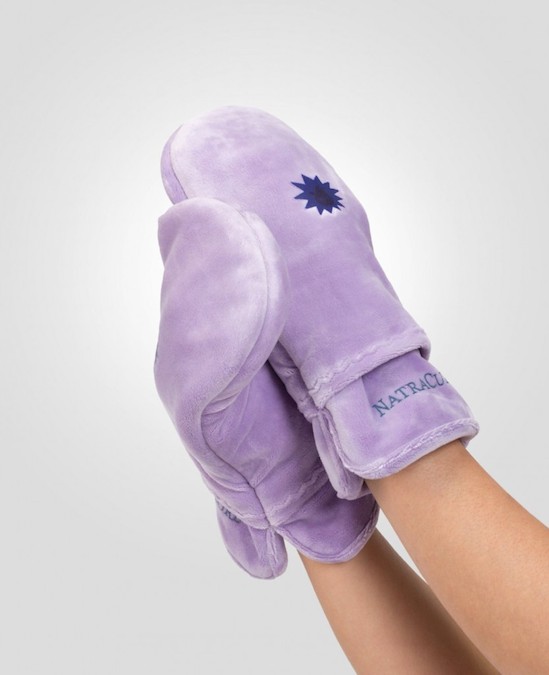 No, these gloves and slippers are not sexy; in fact, when I first wore them I was at my parents' apartment, and they both proceeded to laugh out loud when they saw me lounging about in them…head shakes may also have been involved, and these are my parents!!
READ MORE >
Anti-aging shouldn't stop at the neck. In fact, hands are one of the easiest places to spot someone's age; they're rarely cared for as well as the face is, and the rest of the body often ends up equally overlooked. If you really want to stay soft skinned, you must pamper yourself from head to toe…
READ MORE >
Just because the summer is over doesn't mean you can get lazy with your pedicures. In fact, this is the time to really take care of your feet, after the harsh beating they get over the summer (especially wearing flip flops; they're torturous on the heels). I've been using the Glytone Ultra Heel and Elbow Cream – mostly on my feet – to great results.
READ MORE >
To know me is to know that I love and swear by my Clarisonic, so when the brand comes out with new products I'm always, ALWAYS, always excited. Their newest launch is called Pedi ($199), and it's basically a Clarisonic for your feet.
READ MORE >
I'll admit it – I don't treat my feet very well. High heels have been a staple for me since college and that's not going to change anytime soon. No amount of pedicures or magic potions even begins to tackle the rough patches on my heels and the balls of my feet. I've finally found … Continue reading "Baby Foot Easy Pack: Heal from Heels"
READ MORE >
The farm to table ideas comes to beauty (so I guess it's farm to bathroom?). I just discovered this line, and now I want to buy everything they make. The natural ingredients come straight from their farm, so there are no chemicals. All of the products are even vegan and gluten free. And the scents … Continue reading "Farmhouse Fresh Goods: Backcountry Beauty"
READ MORE >