Search Results
A simple, elegant shape like this is born ready to receive the gorgeously printed treatment. Naturally, you can trust Valentino to adorn their top-handle tote without any hesitation, and the result is a look that's full of bold personality and chic confidence.
I've been eyeing a studded crossbody Valentino bag for a solid three years now. Every time I'm looking to splurge I go to the Valentino store to scope it out.
Valentino's multicolored chevron pattern has risen to popularity just as quickly as it would take a rainbow to appear after a thunderstorm – and the results are equally magical.
In a pre-show interview, the designing force behind the House of Valentino told me white is the color of Haute Couture. Pure, unadulterated, clean, and effortlessly distinctive, the shade's power lies in its uncorrupted connotation and lack of pretense.
Watch the Valentino New York Haute Couture runway show right here at 8 pm EST…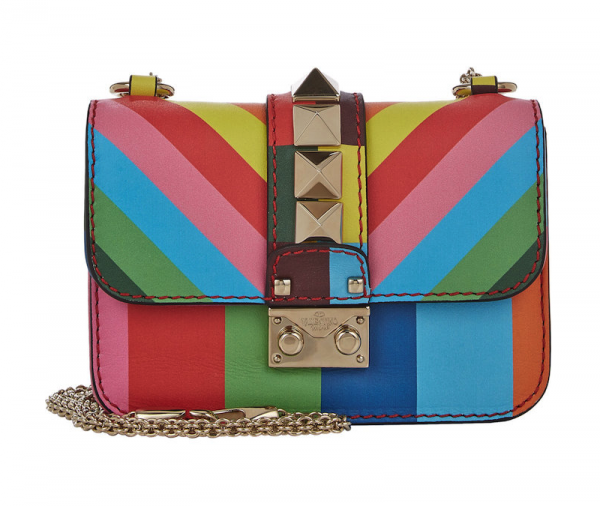 I'm here in New York City for Valentino's show tonight, and not only am I so excited to see what they have in store, I'm pretty enthused about their just-released Resort '15 collection.
Like pastel and bright hues, butterflies may initially seem better suited to make their first fluttery appearance in the springtime. But also like pastels and brights, they are so much more uplifting as we fall into the cold, dark months of winter.
I give Valentino a lot of love because honestly, Maria Grazia and Pierpaolo aren't doing much wrong these days. This latest confection only further solidifies my obsession. Hello, happiness! They've unleashed one of the most upbeat and perfectly irreverent bags you've ever seen, in time for the spring season.
We've become so accustomed to the spectacular embroidery and detailing showcased on Maria Grazia's and Pierpaolo's epic dresses for Valentino, it shouldn't come as a surprise to see similar work on one of their bags. But that doesn't make taking a gander at this bag any less special…