Dear Bag Snobs,
I've been reading your blog for almost 1year and a half now (isn't it incredible how time flies?). I've been following it loyally and surprisingly my husband loves it too. I spend less on bags now as I've gotten much more discriminate, buying less 'it' bags every month and just going for what I love.
Now I have a problem. I go for yoga 3 times a week, whilst the rest of me looks cool and sophisticated, my gym bag is an old sweaty Nike gym bag. And I'm so embarrassed. I'm looking for a new bag something practical, sweat-proof since the yoga clothes do get wet and still something l can lug around town… Any suggestions?
Your fan,
Julia

Dear Julia,
We are so happy to hear of your new savings plan and it is so true, once you have the best, nothing else compares so you end up buying less. But I'm going to totally contradict myself in a second. In the case of gym bags, I do not believe in using your best and finest leather bags for sweaty clothes (a girl at my gym uses her white Muse and let's just say, sweat and white leather does bode well for the bag). But that's not to say a Nike duffel is acceptable either. I like using versatile bags that I can multi-purpose and for me canvas works well because I can use them for the park, beach or for weekend road trips, as well. Here are some suggestions:
Bottega Veneta Canvas Tote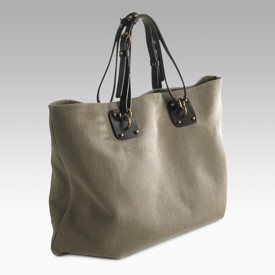 This is not gym specific but it's a beautiful bag that works for all the situations I mentioned and it is wide enough to put your yoga mat across (although part of it will still stick out). It only has one large compartment (with an interior side pocket) so you will still need to put your shoes and sweaty clothes in another bag before you throw it all in there. At Saks for $670.
YSL Downtown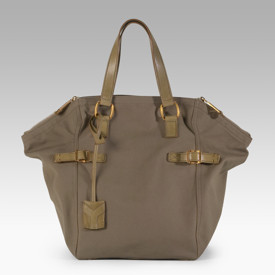 This YSL is the same idea as the Bottega but of course it is the Downtown style so it is quite a bit more chic. It has a top zip closure which is better for concealing the not so pleasant sight of socks and sports bra. And there are 2 zippers that zip half way each, so you can have your yoga mat partially stick out and zip just one side. At Saks for $1095.
Tod's Roxbury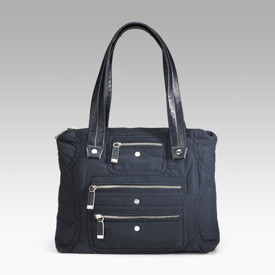 This is not my favorite style of the bunch (it is still really cute as a gym bag) but it's the most functional. It doesn't fit a yoga mat (if you're lucky enough to belong to a gym that has really nice and clean yoga mats) but the zipper compartments are great for membership cards, cash, hair bands, extra socks, etc. And of course nylon is easy to clean and airs out much faster than canvas. At Saks for $645.