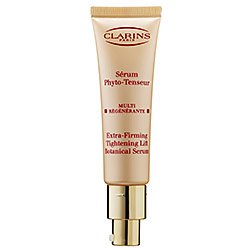 I'm only in my 20s so thankfully I don't have to worry about age-related wrinkles just yet, but I've been known to obsess over frown and smile lines to no end. Though I'm not at the point where I need to be thinking about injections, lasers, and lifts I'm a strong believer in preventative care! So I'm happy to report that the star of Clarins' Fall Product Line this year is the Clarins Extra-Firming Tightening Lift Botanical Serum 1.06 oz
($75). I just starting using it (after cleansing and before moisturizing in the evening), and besides the wonderful smell (Clarins products always have this great non-invasive, fresh, clean smell), there is a definite, immediate firming effect and like Prescriptives' Super Line Preventor Xtreme ($38), it's a great natural, cosmetic quick-fix to daggle fine lines. Also, when I applied it under my makeup it increased the hold of my bronzer. Though the product is aimed at 40-somethings, I think it would work for anyone looking for a simple anti-aging serum to add to a cleansing/moisturizing routine (unlike so many other firming/tightening serums I've tried, this one isn't part of some long 5-step process..though I suppose if you were to buy the whole Extra-Firming line it could be…). Check-out more specific information on what is in this serum and the key benefits after the jump!
Formulation–
Oat Sugars — for the tightening effect because they have the ability to adjust to the texture of the skin. They form a biological film that binds with the cutaneous lipids without disrupting their organization and it is sufficiently flexible to lift and smooth the skin while maintaining the face's natural expressions. The effect is the optical reduction of fine lines.
Inca Peanut Proteins — smooth and refine skin's texture for a lifting and toning effect.
Hibiscus Seed Proteins — moisturize the surface of the skin to strengthen the smoothing effect.
Stimulen (a combination of amino acids and Vitamin E) — preserve the functions of the Langerhans cells and encourages cell renewal. These actions ensure long-term benefits as skin's youth is prolonged, skin is better able to defend itself against aggressions.
Silicium (derivative from Brown Algae) — boost elastin and collagen synthesis.