UPDATE: Congrats to Cherie L for identifying the bag correctly– it's the Loeffler Randall Bedelia!! Please check your email for instructions!!!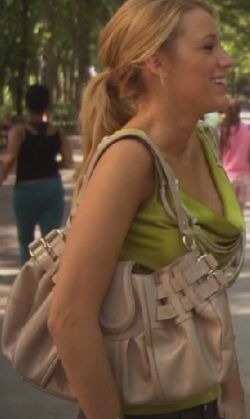 Happy weekend all! I fell asleep last night at 9pm and woke up at 8am. After 11 hours of solid sleep, I feel like a teenager again! Well, not really but I feel pretty damn good.
In fact, I feel good enough to have an urge to give you stuff! So here is a fun pop quiz to start your weekend with. Quiz will end on Oct. 5th– Sunday night at Midnight EST. US residents only please! Winner will be picked via random computer drawing.
Question: Who is the designer of Blake Lively's cute and youthful bag? Leave your answer in comments with your email so I can contact you if you win!
Prize: Your choice of Bag Snob T-shirt (any color and size) AND a Bag Snob Bag Hook. (I am feeling generous today)
Have fun!!!