The Q-Link is an energy pendant that is said to re-balance your body's natural energetic system and reduce stress, while increasing energy and improving concentration and focus. Celebs everywhere seem to be eating it up — everyone from Gossip Girl's Leighton Meester and Kabbalah Queen Madonna, to Lindsay Lohan and Jennifer Love Hewitt have been spotted sporting the pendant necklace. More about Q-Link after the jump!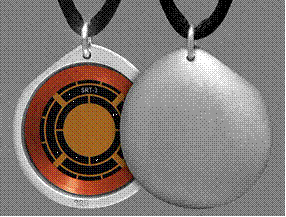 People who wear the Q-Link, which retails for between $100 and $1,000, reportedly experience —
• Improved awareness and calmness
• Advanced mental focus, stamina and vitality
• Stronger resistance to the effects of stress
• Increased energy
• Strengthened immunities to cell phone, computer and other Electromagnetic Fields
• Reduced effects from jet-lag
Personally, aesthetic-wise this isn't really my style, but I like the idea behind the pendant and there is supposedly research to back-up their claims. Also, I think it's cute that they say you should wear it close to your heart:) For more information check-out the The Q-Link website!