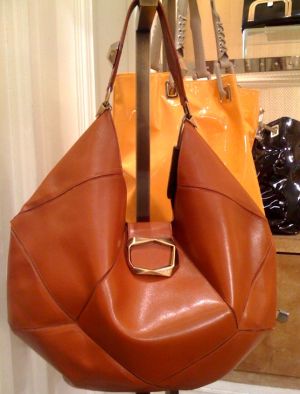 Loving the geometric bags thrown in my path today. This is the latest darling from Roger Vivier that just landed at Bergdorf Goodman.
The signature buckle is updated and modernized in brushed matte gold and is the only hardware on this interesting tote. I love the shape, it's like looking at a prism and you can't tell which way is up or down!
Okay so it also resembles a basketball but in a sporty sorta way. I have seen bags from the 70's with similar leather and it wears beautifully. In fact, I love distressed luggage colored bags. Can't you see this paired with a pair of old jeans and a Dries or Marni top? So effortless and chic! But also really huge, 20″x12″.
$2325– call or email Eddie Curtis at Bergdorf Goodman- 212-872-8940.
What do you think? Snob or Slob?