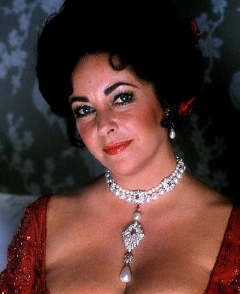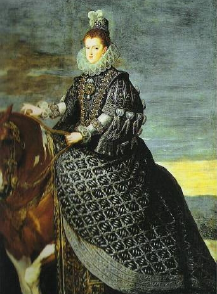 Elizabeth Taylor wearing La Peregrina Pearl; Portrait by Diego Velazquez of Queen Mariana of Spain wearing La Peregrina Pearl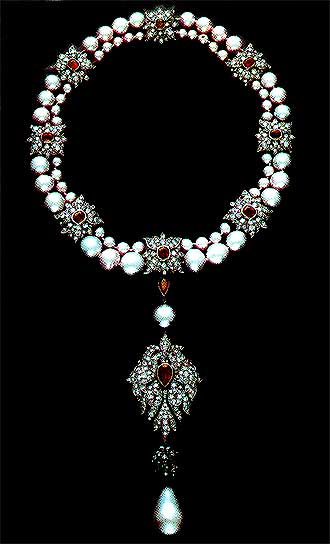 I went to see Cartier's 100th Anniversary exhibit at their Rodeo Drive store and there were a lot of incredible pieces, many worthy of individual mention but since I love other people's drama, the one that caught my full attention is La Peregrina Pearl, on loan from Elizabeth Taylor. Seriously, a movie or entire soap opera saga can be based on it's 500 year history.
The origins are a bit fuzzy, there are several versions with varying details but the basic story is the same. It was found in Panama in 1513 by a slave and brought to Spain and given to the Crown Prince, Phillip II. He rewarded the slave with freedom. The pearl was given to Mary Tudor of England (daughter of the notorious womanizer, Henry VIII, she was the daughter of the first of his 6 wives) as an engagement present in 1554. She ascended the throne in 1553 and was a sweet and well like Princess. But she had differing views on religion from her dad. See, he needed to keep divorcing or beheading his wives because they couldn't give him a son. Catholicism, and mainly the Pope, wasn't so hot on his marital practices so Henry had to turn the entire country Protestant in order to get his divorce.
The problem is, the person he needed to divorce was Mary's mother, Catherine of Aragon, who was Spanish and devoutly Catholic. Henry made Mary sign some papers renouncing Catherine as ever being the Queen, basically making Mary a bastard. She held a grudge and was pretty bitter so when she ascended to the throne, she made the country Catholic again, which didn't go over so well. Many died during this period, for which she was held accountable thus given the lovely nickname "Bloody Mary". Now you know what had to happen the next time you're hungover and enjoying one of those. Mary died in 1558 to the relief of the entire country and the throne went to her half sister, Elizabeth I, whose reign is knowns as The Golden Age (like the movie!).

Prince Phillip of Spain was probably pretty embarrassed by his late wife so he took La Peregrina Pearl back to Spain with him and it again became a part of Spain's Crown Jewels for the next 250 years. It was worn by Queen Mariana in a famous portrait by Diego Velazquez (Prado Museum in Madrid). Things were all good and fine until Napoleon took over Spain in 1808 and installed his brother Joseph Bonaparte as the ruler, so now Joseph Bonaparte owned the pearl.
The Bonaparte men were quite tenacious and continued to regain control of France for generations. The last Bonaparte to own the pearl was Charles Louis Bonaparte. He purportedly sold the pearl to Lord James Hamilton, the 2nd Marquess of Abercorn, to finance his presidential campaign, which he won. He dismissed the Parliament when his term was up and crowned himself the Emperor of France, Napoleon III. This sale must have happened right before 1848 when he returned to France after being exiled in the US and England. La Peregrina stayed in the Hamilton estate for 120 years until it went up for auction at the House of Sotheby's in London in 1969.
Richard Burton bought the pearl for $37,000 as a Valentine's gift for Elizabeth Taylor. It was reported that one of her dogs chewed up the pearl (she didn't tell him about it!) and that is when she decided to commission Cartier to restore the pearl to its historic grandeur by designing a necklace that resembles the one seen on Queen Mariana in the Velazquez portrait. The pearl is on a clasp that can be removed and used as a brooch. This necklace and design concept illustration with hand written notes made by Elizabeth are currently on display at Cartier, 401 N. Rodeo Drive Beverly Hills, 310-275-4272.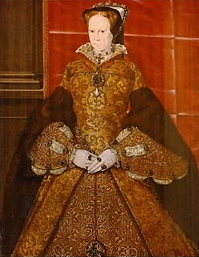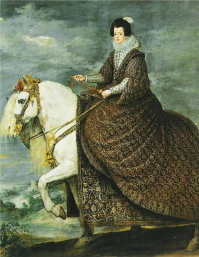 Mary Tudor (Queen Mary, aka "Bloody Mary") wearing La Peregrina; Queen Isabel of Spain wearing La Peregrina in a portrait by Diego Velazquez