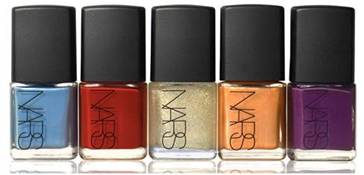 In honor of NARS' 15th anniversary, François Nars, Founder and Creative Director of NARS Cosmetics, has resurrected some of the brand's long-lost nail polishes ($16 each), from the NARS archives. The five shades will be available for a limited time beginning this month —
Blue Lagoon (Originally launched in 2001) – iridescent powder blue
Cha Cha Cha (Originally launched in 2001) – semi-sheer tangerine with gold reflections
Hunger (Originally launched in 2001) – hot orange red
Tallulah (Originally launched in 1998) – rich grape
Zizi (Originally launched in 1999) – clear with peach and gold glitter
The last thing I need is another bottle of polish, but I was too tempted to resist and ordered Hunger the other day. I love that there's a hint of orange in the deep red which makes it nice for summer. They've also come-out with a summer shade called Adelita (pearlescent pink), that I'm finding to be a nice alternative to my deep reds and bright neon pinks/purples. Jump for more on the NARS Summer collection!

NARS Tropic Single Eyeshadow– $22
NARS has said that he is always inspired by the tropics and this teal shade is a nice reflection of that. I'm usually not a fan of glitter, but NARS does a great job at matching it with appropriate colors. Perennial favorites of mine are NARS Night Clubbing and Gold Finger, Tropic now rounds out the group! Though I do wish the shadows came with a brush…

NARS Scorching Sun Duo Eyeshadow– $32
The glazed apricot and radiant orange duo, is designed "to imitate the effect of the burning sun," according to Nars. The pair can be blended together to form a rich, burnt orange, or worn in tandem.

NARS Irresistiblement Bronzing Powder– $30
A golden terracotta.
NARS Falbala Lipstick– $24
High-shine bronzy rose lipstick.
NARS Belize Lip Gloss– $24
Pale pink mauve sprinkled with specks of gold.
NARS Tonga Lipliner Pencil– $20
Pink amber.