Meet the ultra chic and trend setting bag designer, Sang A! Good thing we showcased the Fall bags cuz they're just hitting the stores now! You must pick up a migration bag if you are a frequent traveler, the chic external straps will stow your sweater or cashmere shawl for the plane! Available in soft sueded black python ($2,500) or calf skin leather trimmed in python ($1,800) in black or various colors. The Migration is not only a travel essential it's a functional daily bag if you have to run around after your tots and need your hands free! W. 14.5″ H 9.25″ D 8.5″. At Sang A
The Flash II Color Block clutch is another must have, it's genius how she makes two clutch styles out of one with just a few strategically placed magnets! Dimensions: W. 8″ D. 8″ in Crystal Dust & Graphite Seasnake – Retail: $1,300. And in case you're wondering, the rocker chic 'zebra' crocodile is $9800. Email Joseph or call him at 212 564 4433 to order today!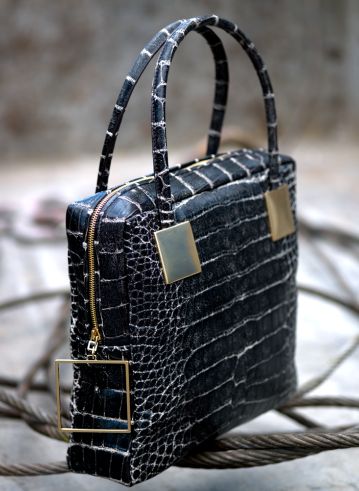 How rock and roll is this distressed crocodile River tote? Mine is gray ostrich and it fits my laptop and a stack of magazines (if you still read them) easily!
Dimensions: W. 12″ H. 11″ D. 3″
Black Zebra Crocodile – Retail: $9,440 (not a bad price for treated crocodile!)