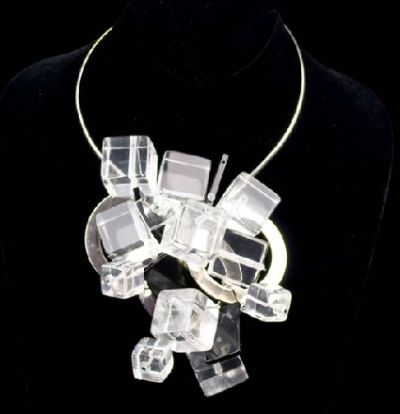 Not only is Ginger McGann one of my closest friends but I am proud to say, she is also amazingly talented and the most creative person I know. She began her collection a year ago but she has been designing since the day she could hold a pencil and draw. Even after all these years of being impressed by everything she does, the latest Industrial collection is blowing my mind and turning me into one of those annoying friends who keeps nagging her to make some pieces for me! These are so bold and expressive with absolute originality. She is really showing her personal style with these and as always, standing out above the fray from the in-the-box jewelry designers.
The Tyra (above) is a super fun and funky piece of lucite cubes and black onyx squares on a silver metal neck collar. It is a choaker length at 16″, you can rock this out or wear it with a simple LBD, for $400.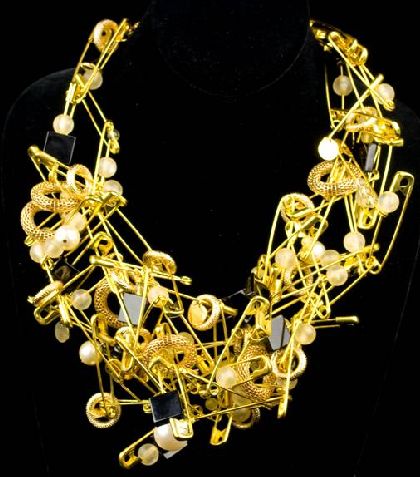 The Gretchen necklace is my absolute favorite, one that I must must have. It also comes in silver but I have been in a gold mood lately. The golden safety pins are strung with black onyx, pearls and glass beads and haphazardly interlocked together to create a cluster that looks dangerous and feminine. There is nothing sexier than being able to pull that off!! The length is 17″ so it sits against the neck but is not super tight. The entire thing is surprisingly lightweight so it is comfortable enough to dance all night with it on. This is the perfect New Years Eve accessory! For $500.