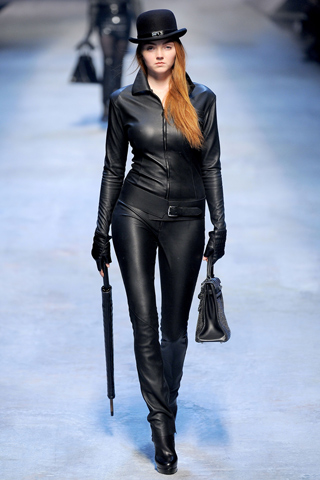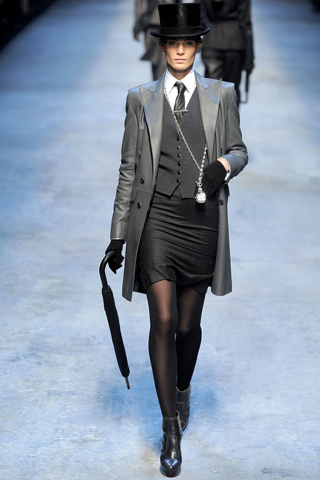 As designers across the board this season buckle down to readdressing daywear, Jean Paul Gaultier followed suit at Hermès–literally–by reappropriating masculine workwear for today's woman. With Bond music playing in a venue blanketed by fog and designed to mimic a telescopic tunnel as Big Ben chimed, the models looked sharp and tailored in their leather suits with derby hats (think more M than Pussy Galore). According to Gaultier, the show centered on a feminine English hero–a Mrs. Bond or Emma Peel from the "Avengers" (who Lily Cole played in the show).
Gender-blending and masculine silhouettes tailored cast in a wintry palette funneled into turtle-neck T-shirts, sleeveless duffel coats, T-shirt dresses, three-piece suits, second-skin pants and zip-through shirts. Masculine dress, save for pops of a leopard print, came into play through wool Crombie coats, wide-leg pant suits, vests and formal shirt-and-tie combos, while the feminine touches arrived as leopard print silk dresses, pussy bow blouses and prim pencil skirts. There was a strong outerwear focus, with the classic trench, a leather parka, the camel duffel coat, a blanket fringed mohair coat and a luxurious white mink four-pocket jacket. For evening there were long jersey columns featuring a ruched centre panel with a strip of raw alligator leather.
Accessories were both whimsical and chic: bowlers and top hats, umbrellas, gloves, buckled wide leather belts, skinny multi-wrap belts, leather ties, pocket watches and of course the classic Kelly bag in regular and miniature sizes and refashioned in studs, sheepskin and strapped to umbrellas.