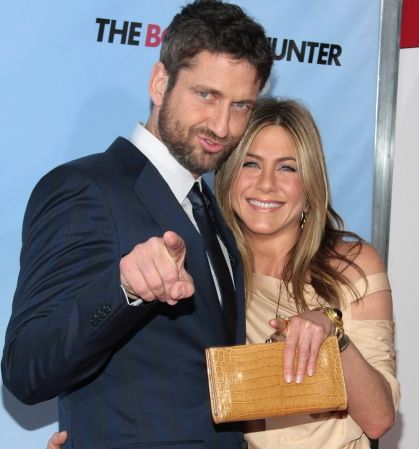 It should come as no surprise that Jennifer Aniston carried a Ferragamo honey-colored beige clutch to the premiere of her new movie, "The Bounty Hunter," Tuesday night in New York. After all, the stunningly toned and youthful actress, who paired it with a Donna Karan Collection gown straight off the spring runway, has long been a fan of houses, like Ferragamo and Bottega Veneta, which have built legacies based on discreet, yet chic, luxe.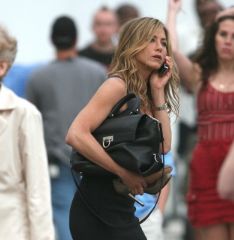 In her latest film, an action comedy co-starring the handsome Gerard Butler, Aniston incorporates Ferragamo's timeless Sofia Bag (the company describes it as "the cult bag of the recent collections") in her wardrobe. In the movie, Aniston wears a black skirt and pumps that get lost as the story unfolds, but her simple black Sofia bag remains at her side at all times, despite the film's pursuits and chase scenes.
What I like about this bag is its soft, full, rectangular shape paired with large metal Gancino clasp. I love how Aniston nonchalantly carries it with its semi-rigid handle in one scene but then, when she needs her hands free, tucks it under her arm for a casual day look. I also happen to think the detachable strap makes it ideal for city dwellers to wear as a crossbody bag; wear it up above the hip for a younger edge. It makes for a great business bag but is still very fashionable at the same time. The Sofia bag, as I learned, has become such a hit that the company carries it as part of its permanent collection year-round, updating colors and fabrications to suit particular trends or fashion-forward styles. Aniston likes hers in black, but it's also available in coral, white, black patent, dark grey and mercurio.
Some Ferragamo bags in the past have felt too overreaching for my tastes, but this one–with its clean, soft lines–really oozes style and a relaxed, savoir-faire attitude that Aniston so personifies both in her on-screen roles and in real life.
$1,650 for leather & $1,750 for patent leather at Ferragamo stores worldwide. Ferragamo Sofia Bag also at Saks