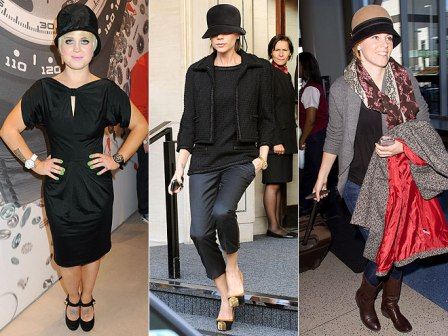 Winter weather can wreak havoc with our hair and so can winter hats! Most definitely wearing winter hats, no matter how fashionable, can make the hairstyle underneath less than perfect. So here are some easy style tips to sport the latest hat trends and to keep your hairstyle looking good all while staying warm and fashionable this winter.
The Cloche Hat
This bell shaped fitted hat made famous first in the 1930's has become one of this season's hottest hat trends worn recently by Gossip Girl Blake Lively. This hat fits very close to the head so hair styles that need to stay full should steer clear of this hat style. Instead, opt for a more Cloche Hat friendly style and texture. Chin length hair that is either smooth and straight or slightly wavy work very well with this hat style. The hair can be gently smoothed down and towards the back of the nape and even tucked behind the ears. The hair looks good peaking out of the bottom of the hat's small brim. Steer clear of any heavy or sticky grooms so when the hat comes off the hair can easily be fluffed into shape. Instead opt for a weightless, non-resin groom that also binds a bit of moisture to keep static at a minimum. Look for ingredients such as organic Water Celery, Solomon's Seal and Mongolian Oak. Also choose a product that can also be applied to wet hair or dry hair so when you take your Cloche Hat off you can add a drop or 2 of the groom to control and fly-aways. Try Tela Beauty Organics by Philip Pelusi Guardian SPF 18.
The Slouchy Beret
This hat fits loose and can work with any hairstyle. Unlike a traditional beret, this look is much more loose-fitting and has a bit of bohemian flare so it works well with longer hairstyles preferably a bit on the wavy side. This type of hat also works best on medium to longer length hair. If hair has a natural wave, simply apply a resin-free, non stiffening curl enhancing product to wet hair and either air dry or diffuse. Look for one with weightless moisturizers such as organic Lavender and Cassia Angustifolia Seed. Then once dry add texture with a beach texture creating groom. Choose one with organic Sugar Cane granules that create texture without a stiffening agent. Also look for moisturizers such as organic Olive and Grapefruit Seed Oil and organic Shea Butter. If hair is straight, use a big barrel curling iron to add curls, some curls facing towards and some facing away from the face then apply the beach groom. Try P2 Purely Professional by Philip Pelusi ReCurl and like P2® Purely Professional by Philip Pelusi BeachComber.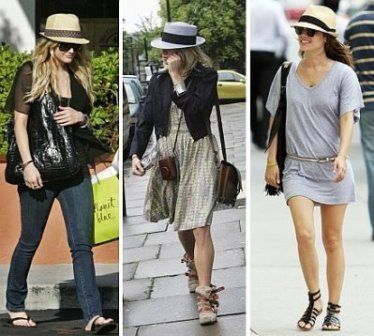 The Fedora
A side swept ponytail is a perfect way to wear your hair under a Fedora. This makes hair look polished and feminine in contrast the sharp angles of this menswear style hat. The ponytail is a good solution for when you want to wear your Fedora all day as part of your outfit or for when you want to have a neat looking style for when you want to take your Fedora off. This look works best with straight or smooth hair. Create a side part and use a bore bristle paddle brush and a non-resin but substantial hair grooming and smoothing product to help hold hair in place without the stiffness of a gel. Look for smoothing ingredients such as organic Sweet Almond Oil, Shea Butter and Olive Oil that also control hair and bind weightless moisture into drier winter hair. This product will also help you control your hair as you style it into the ponytail. Brush hair into a low side ponytail at the nape on the opposite side of the part. Secure ponytail and put on the Fedora. By the way this technique also works well in the summer-time when sporting the popular Panama Hat. Try Tela Beauty Organics by Philip Pelusi Encore.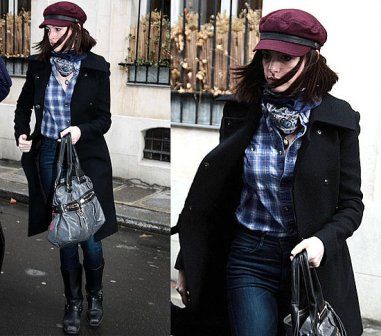 Newsboy Cap
Wearing a ballerina-esque bun at the nape is perfect combination with this tomboyish type Newsboy cap look. Think Anne Hathaway's character, Andy, in the Devil Wears Prada. Also the Newsboy cap is supposed to be worn low on the forehead and this tends to cover most of the entire forehead. Wearing a ballerina bun pulls the hair back off the face opening to face up. Part hair in the center or off to the side and smooth hair back into a low ponytail at the middle of the nape. You could also opt to place the bun still low on the nape but off to the left or right side. Use a hair smoothing bore bristle brush and a organic Honey-based hair smoothing product to control hair and help add a bit of moisture with organic Marshmallow Root and Mountain Ladybell to help control static. Apply product to the ponytail also and brush smooth. Twist ponytail in one direction and wind around ponytail and secure with a few hair pins. Put on Newsboy and you are ready to go. Try Tela Beauty Organics by Philip Pelusi Composer.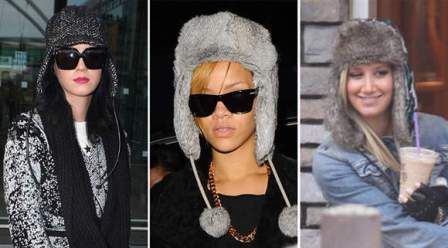 Fur or Ear Flap Hats
Fur or Ear Flap Hats are all the rage and definitely keep you warm but they often crush the hair. A half-way up hairstyle look is a great idea to make the hair look great while the hat is on and preserve the hair for when the hat comes off. This look can be worn by wavy or straight hair textures. Style hair as usual and then divide hair in half from ear to ear and twist up the crown of the head. Mist this section of hair with a hair-freshing product that doubles as a setting spray. Look for one that is resin-free so the hair doesn't get stiff and is easy to tousle when the hat and pin are removed. Look for ingredients such as Matricaria, Asafetida, Horseradish, Sage, Blackberry and Grape Seed to bind weightless moisture and help cut down on under-the-hat static that is so prevalent in the winter. Next, secure this front section with a clip or hair pin. This will work as a dry set. Once you take the hat off and remove clip, toss to separate hair and revive hair with a hair refreshing product. Try P2 Purely Professional by Philip Pelusi RefresHair.
Tip for rebounding for all hat hair
No matter what hat or hair style you are wearing hair always looks less than perfect when the hair comes off. It is often flatter and can often have static. To be able to do a quick repair job on your style, carry a spray-on, resin-free dry shampoo. Look for one with weightless moisturizers like Organic Bergamot, Lavender and Sunflower to help control static. Try Tela Beauty Organics by Philip Pelusi Dri Shampoo.