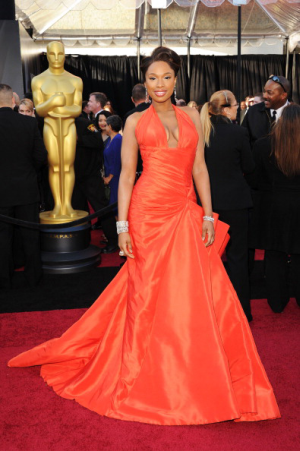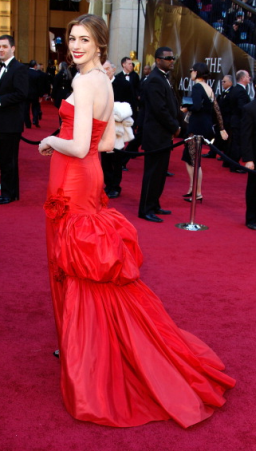 Jennifer Hudson in Atelier Versace
Not only has she lost half her body weight, but Jennifer Hudson set the Oscar bar high with her deep orange Atelier Versace gown. The draping around the bodice complemented her new svelte self while her folded skirt with full train (kept smooth with Versace platforms) looked modern, slick and, most important, comfortable.
Anne Hathaway in vintage Valentino Haute Couture
This was quintessential Valentino. I loved that Mr. Valentino had not one, but two, moments at the Oscars. Here, Anne wears his vintage Haute Couture Fall 2002 red taffeta gown with train and floral appliqué that looked timeless and effortless. While 2002 isn't exactly "old," it is nearly a decade past–proving that once a classic gown, always a classic gown.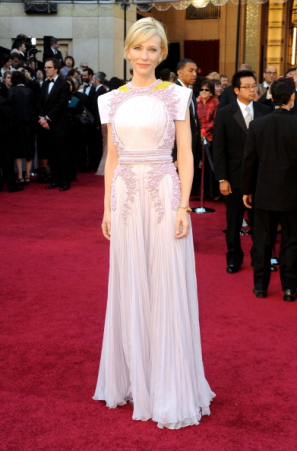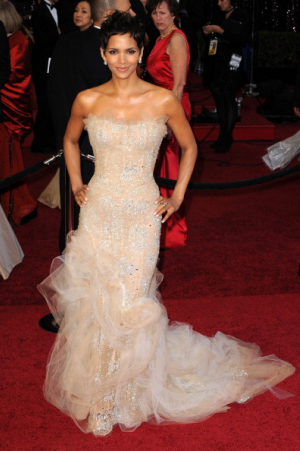 Cate Blanchett in Givenchy Haute Couture
This Riccardo Tisci-designed stunner, dubbed "Tao," could only have worked on Cate. Where to start? The pleated wisteria silk chiffon embroidered with pearls and crystals trapped in leather? Or the silk organza stitched with silk thread tone on tone in front and chartreuse behind? Or the fact that there are wide cut trousers underneath the embroidered sleeveless jacket!?! With that perfect short hairdo, this dress simply floated on air as Cate walked. Bravo.
Halle Berry in Marchesa
A safe choice, yes, but one that worked. Halle's nude and crystal encrusted corset Marchesa gown with organza and silk tulle ruffles boasted all of the design house's quintessential elements: structure, embellishment and tulle (and lots of it!). It wasn't exactly groundbreaking or fashion forward, but when you are Halle Berry, any dress will pale in comparison.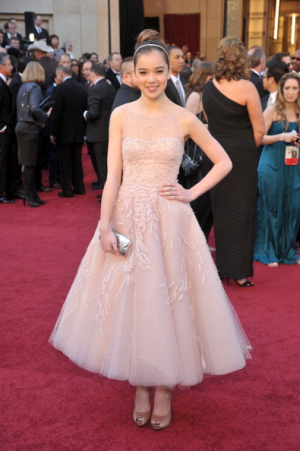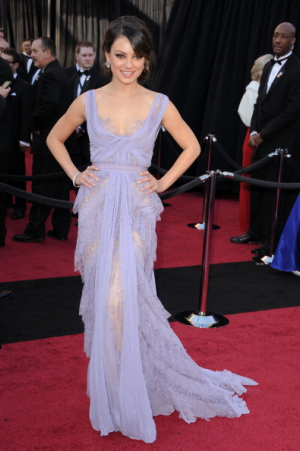 Hallie Steinfeld in Marchesa
Two words: age appropriate. While I think this crystal hand embroidered tulle tea length dress in pale ballet pink makes her appear a tad too young, I do think the cut is flattering for her thin frame. Like with Halle Berry's dress, it's predictable, but it's a darling design.
Mila Kunis in Elie Saab Haute Couture
Lavender is clearing the "Black Swan" star's color du jour. This chiffon gown with tiered lace detailing and grosgrain ribbon waist cinches Mila in nicely at all the right areas. It's just sheer enough to remind us she's young and flawless, but the lightly draped layers add a modern elegance to the gown.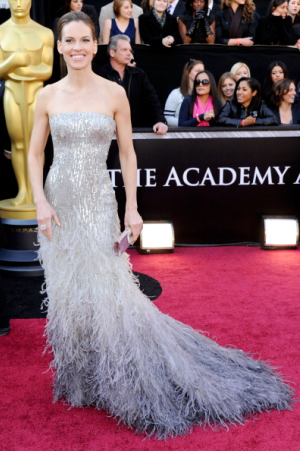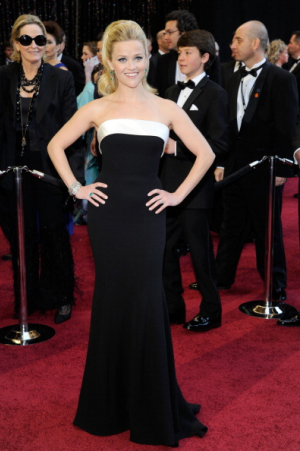 Hilary Swank in Gucci Première
Feathers, feathers everywhere! I can't remember the last time I saw Hilary in Gucci, but it's nice to see that for her debut she chose this couture strapless floor length evening gown with silver sequins and crystal encrusted metallic bustier. The ladies went full-on romantic at the Oscars this year, and Hilary is right on trend with the full ostrich feather skirt in a degradé of color from a pale ice to fume grey.
Reese Witherspoon in Armani Privé
Wait, when did Elle Woods hit the red carpet? Reese looks romantic AND regal–not an easy combo to master–in this classic black and white gown. The strapless dress features a white silk band at the neckline and a subtle train which shows off her hourglass figure and her incredible clavicles. The majorly high updo ponytail was quite the breath of fresh air, though, and I look forward to seeing more of this "new" Reese.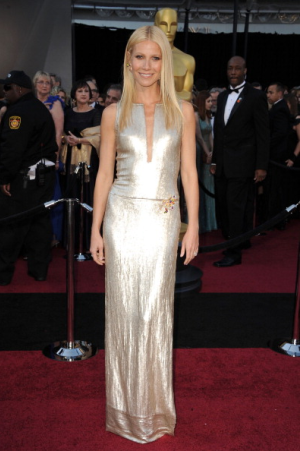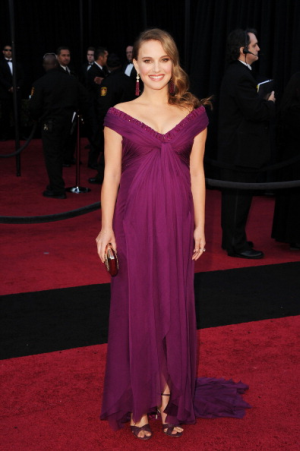 Gwyneth Paltrow in Calvin Klein Collection
Like the Oscar statue itself, Gwyneth radiated–literally–in this custom metallic embroidered sheath dress by Francisco Costa. That slit down the center was so bold and so architectural! I love that she juxtaposed the stark aesthetic of this gown with feminine Louis Vuitton High Jewelry pieces, including earrings that simply stunned.
Natalie Portman in Rodarte
Last but not least, Oscar's Best Actress winner honored her "Black Swan" costume designers by wearing a Rodarte violet-colored draped gown in silk chiffon with Swarovski crystals. The dress boasted a beautiful V-shaped neckline that drew all the eyes up and away from her growing bump, while the dress only slightly grazed the floor in front to keep not only air circulating to keep her cool, but also to prevent any missteps and tumbles. The side part was very Veronica Lake while the tassel earrings added to her glow.