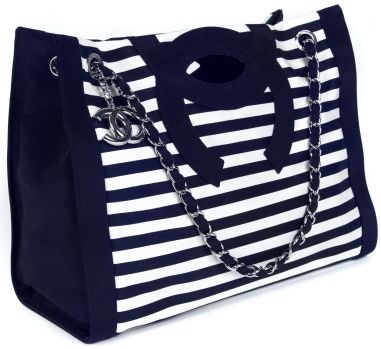 In France, football, or soccer as Americans call it, is taken very seriously. So is it any surprise that nation, known the world over for its cutting-edge fashion and design, has finally turned to some of its most iconic brands to participate in a unique project? Nike created a special jersey for the 11 players to wear, boasting the "marinière," or mariner's style, vertical stripe design. Along with the jersey, a Who's Who of iconic French brands, ranging from Longchamp and Montblanc to YSL and Hermés, have created limited edition projects in celebration.
Karl Lagerfeld, who also photographed the official team portrait, took his contribution up a notch and designed this special nautical-inspired summer tote. Big and roomy for all the essentials one would need for the beach or attending a soccer match, the lightweight tote features an oversized CC logo "wrapped" around the top while a smaller logoed charm hands off one side. I'm a big fan of navy; I think it's a color that can both be laidback and fun but still sleek and dressy at the same time. So, naturally, I love that this bag is fashioned in a mariner's navy.
Only 11 editions of this bag have been created. No price has yet been released, but it will be available at the Paris boutique Colette starting March 28.