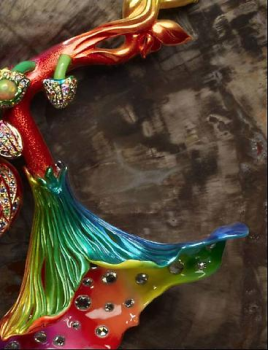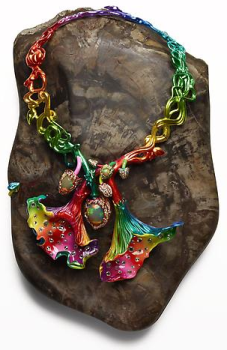 Any girl worth her jewels knows the name Victoire de Castellane. The bubbly and whimsical mademoiselle with magnetic child-like tendencies made her name at Chanel, where she designed costume jewelry for 14 years, before joining Dior as its first-ever creative director in 1998. This week the Gagosian Gallery in Paris unleashes her second exhibition, this one entitled
"Fleurs d'Excès" featuring unique precious objects.
The ten works are meant to recall the jeweled obsessions of the past, such as the mechanical nightingale of Hans Christian Andersen's children's tale, Fabergé eggs, and the over-the-top "bestiaries" of animals real and mythic. De Castellane sought to include a wearable element, becoming "jewelry at rest, waiting to be worn," with each hybrid design. Preferring shapes that aren't too convoluted, de Castellane mounted most of her pieces in solid silver, lacquered over for a disguised effect. I love the resulting shiny opaque pink that looks like plastic or bubblegum and the iridescent green-gold that shimmers beautifully on a beetle's wing.
March 2-22 at Gagosian Gallery Paris, 4 rue de Ponthieu