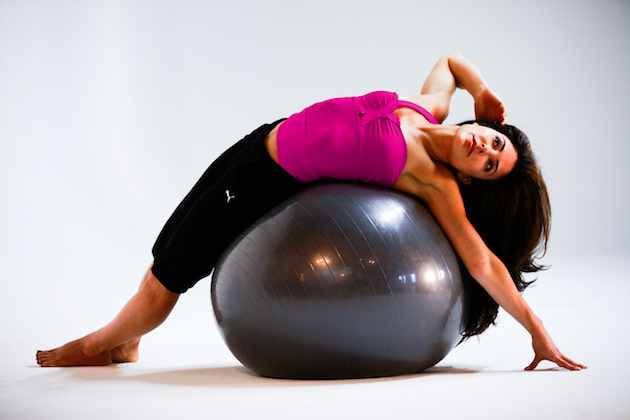 Bianca Jade, aka MizzFit, and I initially connected over email because we're both Cornell Alums who work in similar fields.
When we first met in person, totally by chance, at a random Fashion Week event in February we made plans to have coffee and after spending some time with her discussing health and fitness I knew she would be an awesome person to interview! She has a tremendous knowledge base when it comes to living a healthy lifestyle and dressing in such a way that makes working out as enjoyable as possible. Most of the time I workout in cotton American Apparel leggings and cotton ribbed tanks, two big no-nos and I know it, but it's what I feel comfortable in and isn't that the most important thing? Even though Bianca advices against cotton, she's the first to admit that it's all about wearing what you feel your best in, which I think is an awesome philosophy when surrounded by dozens of mirrors!
See below for my interview with Bianca and tune in to the TODAY show as Bianca is their newest fitness expert!
Have you always been into fitness? It's funny that you
ask this because as a kid I loved sports but then during college I lost
interest and spent more time at frat parties than working out in the gym. In
fact, in college my girlfriends used to make fun of me because I was always
begging or bribing them to drive me to campus for class. We lived off campus in
collegetown and the walk to the arts quad was not short and rather hilly.
Thinking back to this point in my life makes me laugh because these days I choose
walking over taking cabs and subways. Even if it's a stroll, it's still
exercise that works my legs and that's something I can't get enough of!
As a kid I was very
competitive and played on soccer teams. All I cared about was scoring goals. I
wasn't a very good team player and never passed the ball. Since then, I've
learned a lot about sports and fitness and the day I made it my career was the
day I became a team player. It was no longer just about me or how much I
weighed, or how I looked in my skinny jeans. It was about bonding with other
women and helping them get healthy through a shared love of fashion and unique
workout trends. The more I wrote about fitness, style, and trends for other
women and addressed their challenges, the more entrenched my love affair with
fitness became. I've always had a lot of energy so being a fitness fanatic
makes sense for me. But now I get to help women summon their own energy and
have fun doing it. It's a new side of my love affair with fitness that I'm
really enjoying right now.
How do you keep yourself motivated to
workout regularly? Planning is the
first thing I do. I plan out my workouts for the week on a Sunday so that it's
locked in and scheduled in my brain. If I leave fitness scheduling to the last
minute or day of the workout I'm a lot less likely to commit. Also, I like to
workout with friends or take classes taught by my girlfriends or instructors I
have a connection with. The social aspect of a workout is healthy and makes the
experience a lot more fun. Going to yoga classes with my girlfriends kills 2
birds with 1 stone. Lastly, when my energy is low or the dead of winter is upon
us, I resort to DVDs for motivation. Having a library of fun and bizarre
workouts really helps because at the very least I can laugh at myself or brag
to someone that I experienced the "Bollywood Butt Burn". And yes,
that's a conversation starter!
Jump for more!

Many women worry about breaking out when they
don't have time to immediately shower post breaking a sweat. Do you have any
go-to products/tips? Yes! My favorite for
sweaty oily skin are Juara's Skincare line (the facial cleanser and toner are
my go-to). It's a line that's light, organic and leaves your skin feeling very
clean and fresh afterwards. I also love this new facial skincare line that my
friend recently turned me on to called Dr. Alkaitis. I'd never heard of it
before, but it's amazing. I started using it after a few episodes of breakouts
and my friend was right–she's a holistic health coach–it really cleared up my
skin. It's all-natural and made from plants and fruit. Their organic soothing
facial gel is one of my favorite products because it makes my skin feel
revitalized without the need for over-moisturizing.
I'm also a fan of
Mario Badescu and my favorite of theirs is the facial spray with aloe herbs and
rosewater. This is great for pre and post workout because it hydrates your skin
and smells good. I'm addicted to it! The most important thing when it comes to
fitness and products is sun protection and bacterial infection. Especially if
you're exercising outside for an extended period of time. Khiel's is my go-to
for non-greasy/light sunblock for sport/fitness. When it comes to keeping
athlete's foot and any other yucky fungal catastrophes at bay, I make sure to
use Lotrimin powder. I sprinkle it in my socks before long runs or intense,
high impact fitness classes (like kickboxing). It's always better not to take
your chances and the powder keeps your feet dry.
Lastly, to spruce up
oily/greasy hair from an intense workout, I recommend Batiste Blush Dry
Shampoo. It's cheap and you can get it at the drugstore. It's basically a spray
powder to give your hair volume and extract the grease. It works wonders.
Have you tried any new classes lately that
you're loving? Of course! There's
always a new class on my radar and I'm so lucky that fitness instructors are
always inviting me to them. My latest is SLIM & STRONG HARDCORE which was
created and taught by Ariane Hundt. Hardcore is definitely what it is…I've
never heard so many expletives yelled out during class…by women! It's a tough
conditioning class and you will definitely see results based on what I
experienced. For those looking to increase muscle tone and lose weight, I'd
definitely recommend it but please be warned that it's not for the faint of
heart!
Do you have any products you can recommend to
help fight muscle soreness/strain? Yes, I'm into
natural stuff right now so I recommend ginger for muscle soreness. Heck, make
yourself a ginger martini or just order extra with your sushi! A store-bought
product that always relieves pain (especially when combined with massage) is
Tiger's Balm. It's kind of like icy-hot but it doesn't smell as bad.
What would we find if we looked inside your
gym bag? Hmmm, let's me go
see. Ok, I'm back. Here's what you'd find:
1. Bobble Water
Bottle by Karim Rashid
2. Yurbuds ear buds
– they're amazing and don't slip out (I have the hot pink Susan G. Komen
cancer-fundraising ones)
3. Fresh Sugar lip
treatment (in rose tint)
4. Silver ponytail
holders that I bought at the gap (they come packaged all wrapped up in a ball)
5. Rumbatime
original watch
6. Kiehl's Ultimate
Strength Hand Salve
7. Burt's Bees Hand
Sanitizer (it's the best on-the-go spray on sanitizer because it actually
smells good)
8. MizzFIT business
cards — 'cuz I never know who I'm going to meet at a workout.
What are some of your favorite fitness
apparel lines that we may not have heard of? My favorites are MPG
Sport (really fashionable endurance sportswear), Vata Brasil (their website
needs a revamp but their clothes are awesome, I promise). The concept is that
each item is one-size-fits-most, meaning it will stretch to fit sizes 0-14.
It's no joke, it really does. I love their hooded racerback tanks and their
tennis dresses and skorts. I even own 2 of their funky fitness jumpsuits which
I get compliments on all the time. So if you've ever wondered who wears fitness
jumpsuits, well, now you know!
Another brand I love
is BodyRock Sport because it's feminine and body contouring. Femme Fitale
Fitness makes the best fitness gloves I've ever come across. Soffe is a brand
that I recently discovered and I like them for their performance apparel. It's
funky and cheap enough to take risks with.
If you could name three things that all women
should do/wear if they want to feel good about the way they look when they
workout, what would they be?
1. Go to Lululemon
and buy yourself a new sports bra with padding inserts. Doesn't matter if you
have big or small boobs. Lululemon bras will make your chest look amazing
throughout your workout and keep unnecessary slips from happening. As a small
chested girl, I never experienced sexy cleavage until I bough their deep v
workout bra – and I'm not afraid to admit that sometimes I double pad. When my
chest looks good and feels completely supported, I feel better about the activity
at hand.
2. Ditch the cotton
for sweat-inducing workouts. Cotton gets soaked, smelly and heavy when you
sweat. It feels gross on your skin and sweat spots are really unflattering,
whether you're embarrassed by them or not. Invest in moisture-wicking fitness
apparel and that means tops and bottoms. Even when it comes to your sports bra
and underwear…when you're dry you look good and won't run away from a cute
guy walking your way. You might even stay at the gym longer because you won't
feel all sweaty or stinky the way cotton can make you feel.
3. Take the time to
coordinate your workout outfit as you would putting an outfit together for work
or a hot date. Treating fitness like it's an important event will make you more
prepared and passionate about the exercise you're doing and the results you
seek. Throwing old clothes together that you've retired from your everyday
wardrobe (like stretched out cotton tees) isn't going to cut it. If it's not
good enough for everyday-wear then it's not good enough for gym-wear. Gyms are
flanked with mirrors! You're bound to see that stretched out and stained top
when you walk past them. Don't do that to yourself! Instead, put together a
look that enhance your best features and incorporates your favorite fashion
trends. It will change everything from the way you workout to how often you do
it. You'll even feel more confident about trying new things because you won't
be worried about your appearance. The more comfortable and confident you are in
your clothes, not just your skin, the braver you'll be at the gym.