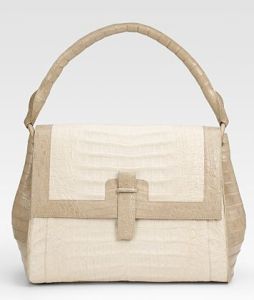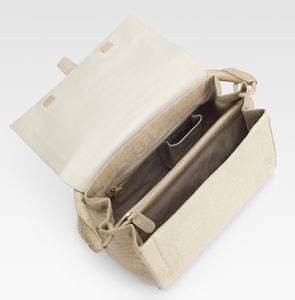 I've really been into skins lately and the Nancy Gonzalez Crocodile Box Top Handle Bag is certainly no exception. This perky top handle number is two-toned and lined with suede. The flap closure really amps up the class and the two compartments with a zip pocket separating inside makes this handy, accessible and fantastic.
This bag is classy, cute and full of sophistication. Almost like an overgrown wallet with a strap, this won't weigh you down or hold you up when you're on the go. This really says "Sunday Brunch" to me or maybe "meeting my boyfriends parents for the first time" to really show them what impeccable taste you have.
However, at a cool $3,400, this bag also says "I think I just maxed out my credit card and sold a kidney" or perhaps "I can't eat this month because my bag is so hot."
If the price is no skin off your … bag, pick it up at Saks Fifth Avenue
.