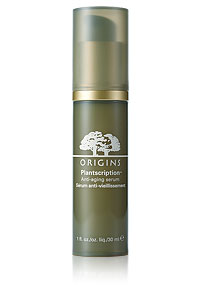 When I received a sample of Origins' Plantscription Anti-Aging Serum, with a request that I take their four-week challenge, I was as skeptical as any seasoned beauty snob would be. The product claims to have 88% of the wrinkle-reducing power of a prescription, with loss of wrinkle length and depth in just a month. I am ecstatic to report that after only one week, I have already witnessed crazy results that I wouldn't believe if I weren't looking at my own skin.
When I smile, I get these tiny lines across my cheeks, especially next to my mouth. And no, it's not the laugh line; these are millions of scrunched-up lines on the cheek itself. While they aren't noticeable unless I point them out (and why would I do that, unless it's to you?), it concerns me that the integrity of my skin might be beginning to fail.
I swear after only one week of this miraculous serum, these teeny lines are disappearing. Every morning, I smile really big into the mirror to inspect them – I stare for such a long time that my husband is starting to worry about my mental health. But they are seriously diminishing! I can only imagine what the results will be like after four weeks.
When this sample runs out, I'll be dashing to buy another bottle. This baby is staying in my repertoire forever! I can't wait to see what this will do for the prevention and maintenance of my unlined face. My mental health, on the other hand, is a different story.
The other reason I just had to try this out? We are giving one bottle away to one of our dear beauty snob readers. She will be one lucky, wrinkle-free girl! At Origins for $55. I have spent hundreds on a product that claims to reduce lines and wrinkles that has a fraction of the results this product has, this is not really a Frugal Snob option, it is just the icing on the cake!
UPDATE: I forgot to add that this smells so good!! It has that spa scent of essential oils. Also, with each purchase, Origins will plant a tree in your honor!