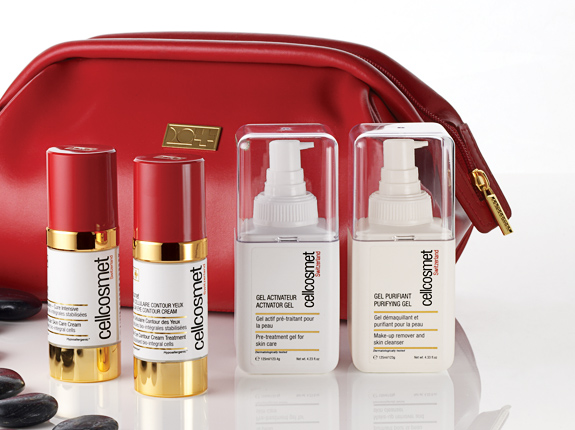 I was beyond excited when I found out I would be able to interview Emilie Prevel, Chief R&D Officer at Cellap Laboratoire Switzerland! I mean how often do you get to speak to the brains behind some of the most luxurious skincare products!? Prevel has been hard at work on the Cellcosmet line, available exclusively at Saks Fifth Avenue, including on their latest product, CellLift Serum so I was most curious to find-out how they go about developing new products and what sets their new serum apart from the countless others we have to choose from. To find out this and more, read on!
With so many products on the marketplace and so much research already in the beauty industry, how do you go about developing new products?
As you rightly pointed out, we have a great deal of competitors. We are always surprised to see how many brands there are compared to the number of manufacturers in the world. Cellap Laboratoire's strength lies in its own R&D department and production unit. This enables us to supervise all our products without having to go through a subcontractor.
There are two distinct families in the cosmetics field: the marketing-minded and the product-minded, like us. We invest our money in the product, not in advertisement. No product will be added to the range if it doesn't match the demands of our specifications.

Cellcosmet products have so much scientific and consumer research behind them. Can you tell us about some of the research behind the new Serum and the consumer reaction?
Eight years of comparing different substances, carrying out tests, exchanging with consumers and adjusting were necessary to find the perfect balance for the CellLift Serum formula. The product contains two essential ingredients: our active stabilized bio-integral cells and the hyaluronic acid form an ideal anti-aging duo.
The amazing revitalizing power of the active stabilized bio-integral cells provides our skin cells with vital energy and helps maintain a healthy looking skin. Using this exceptional ingredient as a base is a great opportunity. I feel privileged to be able to work with this exclusivity from Cellap Laboratoire.
Hyaluronic acid is an essential component of our skin and to a greater extent of the human body. Its biochemistry means it acts as a key molecule for moisturization. Furthermore, hyaluronic acid helps organize the extracellular matrix. Its properties vary according to its molecular weight and its shape/configuration, etc. Looking to explore its maximum potential, we combined different hyaluronic acids. This is how we came up with the Expert Hyaluron Complex.
The second stage of the formulation consisted in choosing the best possible vehicle to help the active ingredients find their target. Taking into account their biochemical structure, their solubility and stability, I chose an aqueous serum. Indeed, this texture fit with our specifications and meant we could achieve a very high concentration of active ingredients.
The rest of the formula was elaborated through listening to consumers' needs, objectively comparing numerous ingredients and patiently adjusting the proportions until we were satisfied with the result. If I told you we tested 22 different extracts (anything from protein extracts, polymers and polysaccharides) to come up with our Firming Phyto-Tensor Complex, you'll realize that curiosity, perseverance and being demanding are necessary qualities one needs to successfully complete such a project.
As the product is just about to be launched, we do not have any consumer reactions yet but considering all the work that was put into it, we are deeply confident.
How much do products change based on consumer feedback before the products actually launch?
Consumer feedback is a precious ally in devising an efficient, comfortable, safe and pleasant product. Preferences and remarks mean I can adapt the proportion of ingredients to find the perfect balance. Here's an example: we tried a gel that was too tensing. Unfortunately, its flaws were as important as its efficiency. It would make the skin feel tight all day and the protective film would break down into little flakes on the face. Talking with demanding consumers enabled us to improve the texture, adjust the intensity of the fragrance and ensure the innocuousness of CellLift Serum, even in the case of sensitive skin.
Who should use the Serum and how should women incorporate it into their existing routine?
Women from age 30 as an occasional treatment, several times a year or daily, depending on skin's needs or from age 35 as a daily treatment all year round.
Suits all skin types, including sensitive skin.
Removing make-up and cleanse the face and neck area with your usual product or our Cellcosmet Gentle Cream Cleanser. Eliminate any residue with a tonic or our Active Tonic
. Then smooth, replump and reveal a brighter complexion with the Serum. Massage in lightly. Allow to dry for one to two minutes before applying a suitable cream (day or night) or our Sensitive, Preventative, Concentrated, or Ultra Vital according to your age and skin's needs.
What are the biggest "faux pas" for women looking to maintain healthy skin? What are the "must dos"?
The biggest "faux pas" would be : Not listening to your skin's needs. Throughout a month, throughout the year, throughout our whole life our skin is going to evolve and have different needs. It won't need the same support in an air-conditioned office when we're 30 as on a boat under the sun when we're 60. To meet the skin's needs, you have to choose and use your products well and learn how to combine them.
In my opinion, the "must dos" are:
* avoid cosmetic trends and be true to the brand or product that suits you, as long as it meets your needs
* remember to take care of your neck
* always cleanse your face before going to bed: night time is key for cellular regeneration
* be reasonable when exposing your skin to the sun
Can you tell us about your skincare regime?
Like most women nowadays, I have little time to dedicate to taking care of my skin. This is why I go straight to the point: I determine my skin's condition and my concerns.
Like all skin types, its needs will be different from day to day. For example, I followed these steps the last 24 hours:
In the evening, I removed all make-up and residue with the Gentle Cleanser and the Tonic Lotion. I then applied the CellLift Serum, some Eye Contour Gel and the Repair-XT cream. In the morning, I reused the Tonic Lotion to awaken and cleanse my skin. I then applied Intensive Elasto-Collagen on dry areas and CellLift Serum on my expression lines and on my lip contours. Finally, I had breakfast before applying my cellular cream and some face powder.
Here's my tip to spot the dry areas of your skin: apply Gentle Cleanser as if it were a mask and look for the areas that absorb the most product after a few minutes.

Are you guys as impressed at the level of commitment and diligence it takes to develop a line of rigorously tested luxury products as I am? I can't imagine spending 8 years working on one product!