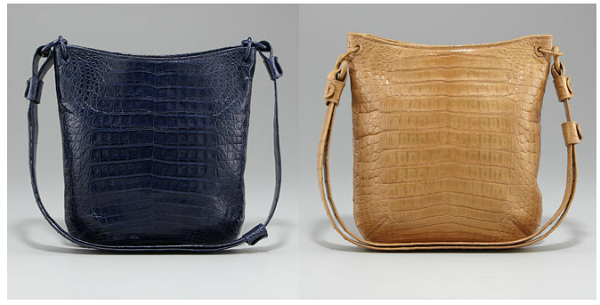 Ask anyone in Taiwan with Tina and me- or anyone who has seen us out and about, for that matter – which bag we carry more than any other, and the unanimous answer will be our Nancy Gonzalez messengers. Yes, we both have one! (Mine is white; Tina's is camel.) This is the ideal all-day, everyday bag. Unlike a typical messenger, it's no schoolgirl rucksack. With a streamlined silhouette and croc skin, it demands respect as a real bag. At the same time, it's so easy and cute – just the breezy, laid-back bag you want and need right about now. And don't let the small size fool you: like all NG designs, it's full of organization (the back has a hidden zipper pocket, the interior is packed with compartments). Not only does the strap look cool (in croc, of course); it has a nifty adjusting system, in which the strap doubles over on itself and stays put in the loops.
My white messenger is on the seasonal side, but the camel or navy – ooh, I'm tempted to get it in navy, too! – is something every busy girl needs. Hands-free liberation and added dimension to your torso via the cross strap. At Bergdorf Goodman for $2,400.
Pair with: Like a belt, a bag like this is a great finisher for a simple top and maxi look. Helmut Lang's draped skirt, with a long length and up-to-there slit, and James Perse's perfectly simple white tee amount to easy chic. Helmut Lang Brushed-Jersey Maxi Skirt On Net-a-Porter
for $370. James Perse Loose-Fit Short-Sleeve T. On Net-a-Porter
for $50.