Too much of a good thing? When a trend abounds, a few misses are bound to happen. Anyone getting involved in the now ubiquitous trend, whether you're a bag designer or you're just getting dressed in the morning, remember: colorblocking is not successfully defined by throwing a bunch of colors together willy-nilly! The colors must follow the form; they must help accentuate the structure. And being playful is key. I have a feeling the trend has at least a few solid looks left, but here are the five bags that threaten to put the kibosh on all mash-ups this side of the rainbow:
1) Chloé "Gabby" Suede and Leather Patchwork Bucket Bag: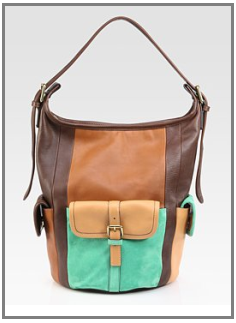 Clumsy and frumpy, the shape is bad and even worse, with a palette that belongs in a 1978 rec room, it's topped off with colors that clash and offend the eye. At Saks Fifth Avenue for $2,395.
2) Chloé "Elsie" Python Jumbo Shoulder Bag: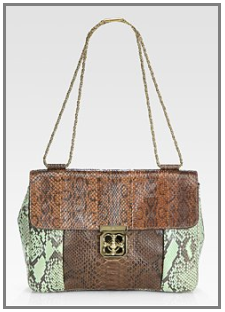 Chloé apparently jumped on the wrong colorblocking bandwagon and didn't look back. This incongruous mix of unstimulating shades is a sad waste of python. At Saks Fifth Avenue for $2,995.
3) Diane von Furstenberg "Harri" Patchwork Suede and Water Snake Clutch: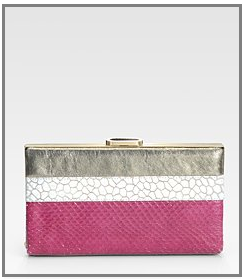 Reminiscent of a piece of candy, this bronze, white, and pink clutch could be cute, but they've taken a too far with crackling texture and neon. If a little bag is tri-colored, it already has enough stimulation to go around. At Saks Fifth Avenue for $350.
4) Nancy Gonzalez Striped Croc-Skin Tote Bag: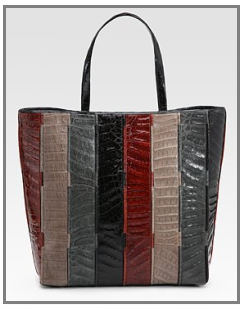 This is more patchwork than colorblocking, but regardless, the stripe-like panels show off a muddled color combo that's drab and thoroughly unappealing. At Saks Fifth Avenue for $3,550.
5) Meredith Wendell Bucket Leather and Canvas Shoulder Bag: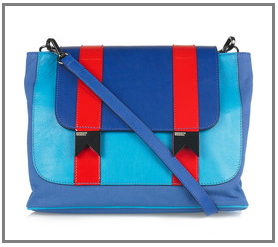 A reckless use of color on a bag that almost works. Wendell has aimed for a slice of Americana; however, the eye-blinding shades are too bright for such a large bag, and it's too kitschy to be chic. On Net-a-Porter
for $795.